'Injustice 2' Premier Skins: Leaks appear ahead of the game's release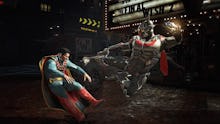 Injustice 2 is out in the wild (one copy at least) and a lucky player has seen fit to reveal some of the early premier skins that will be available in the fighter. Premier skins can be used to alter the appearance, dialogue and voice of an existing character and they appeared in Injustice: Gods Among Us originally. In Injustice 2, they play a role in the new gear system. 
According to GameSpot, Bruno del Villar, the fan who got his hands on the game early, took to Twitter to post several images of Premier skins that will be appearing in the game. 
Injustice 2 premier skins: Possible leaked skins available in-game
Among the images posted (which look to have since been removed), we can see that three of the skins aren't exactly new discoveries. Creative director Ed Boon already showed off Reverse-Flash on Twitter following other announcements in the past. Jay Garrick Flash, Vixen and Mr. Freeze are the only real new announcements here, but it's interesting to see them ahead of time. 
The images aren't the best quality and there aren't any videos available to determine additional details about the skins, but these offer a decent look at what's coming so far. You can take a look at the leaked images over on GameSpot, though it's possible the developer may force them to be removed before long.
There isn't much longer to wait until the game drops for everyone on PlayStation 4 and Xbox One. On May 16 we'll be positively swimming in premier skins. As far as how Bruno got the game early, that's unknown.
Currently, the shots he seemed to have shared via PS4Share have been removed. Probably not the best idea to share via PlayStation when the game's not even gone out to reviewers yet — but to each his own.  
More gaming news and updates
Check out the latest from Mic, including our deep dive into how female Overwatch players are dealing with online harassment, an article about a fan movement advocating for more same-sex romance options in Mass Effect, a cool making-of video for Legend of Zelda: Breath of the Wild and an article about what a Bechdel test for gaming might look like.