What is 'Injustice 2' rated? What to expect from the superhero fighting game sequel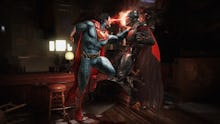 Injustice 2 has already been rated by the Entertainment Software Rating Board ahead of its release on May 16. In the event you're looking to pick it up for one of the younger gamers in your life who loves superheroes, but aren't quite sure if it's appropriate, we've got the details on the game's rating, via the Entertainment Software Rating Board. 
What is Injustice 2 rated? T for teen
Injustice 2 is rated T for teen, so if you're looking to get it for a young child you might want to at least have a talk with them about how real-world violence is different from games. It is a fighting game, of course, so there are weapons and plenty of violence to go around. 
Additional comments by the ESRB explain the reasoning behind the rating further:
Matches are highlighted by impact sounds, splashes of blood and colorful light effects as fighters are hurled across the screen or to the ground. As players engage in fantasy combat, they can trigger super attacks and transitional attacks that propel opponents from different levels of fighting arenas. Some super attacks depict blood-splatter effects as characters are injured by creatures and/or impaled with swords.
To clarify, the teen rating is considered appropriate for ages 13 and up. Injustice 2 will release on May 16 for PlayStation 4 and Xbox One. 
More fighting game news and updates
While you wait for more Injustice 2 character reveals, read more fighting game news on Mic. Find out more about Super Smash Bros. for Switch, the Injustice 2 roster, the Tekken 7 console release date, what to expect from Marvel vs. Capcom: Infinite and the Evo 2017 lineup.