DOJ opens investigation into fatal shooting of 15-year-old Jordan Edwards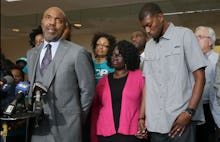 The U.S. Department of Justice is investigating the fatal shooting of unarmed black teen Jordan Edwards in Balch Springs, Texas. The 15-year-old was shot in the head with an AR-15 by a white police officer, who has since been fired and charged with murder.
Edwards and four other teenagers were in their car leaving a reportedly rowdy house party in the Dallas-area suburb when he was shot.
Officer Roy Oliver was one of the officers who responded to the scene of the party after someone called police to report underage drinking was taking place.
Police say Oliver fired multiple rounds into the passenger side door of the boys' car after allegedly hearing gunshots. One of Oliver's bullets struck Edwards, who slumped over dying in front of his brothers.
Balch Springs Police Chief Jonathan Haber initially told reporters that his officers told him Edwards' vehicle was approaching them "in an aggressive manner" before they opened fire.
On May 1, after reviewing body and dash camera footage of the incident, Haber concluded the officers' original story didn't add up and Oliver's conduct didn't meet his department's "core values."
On May 2, the chief fired Oliver, who was charged with murder three days later, turning himself into police before being released on bail.
Edwards' funeral took place on May 6.
In a Thursday email to Reuters, Dallas County District Attorney's Office spokeswoman Brittany Dunn confirmed that the U.S. Department of Justice had opened an investigation into the Edwards'  shooting.
The Dallas D.A.'s office is conducting its own separate investigation. Edwards' family has filed a lawsuit against Oliver, as well.
The new Justice Department investigation seems to contradict Attorney General Jeff Sessions' call to "pull back" on oversight of police departments charged with civil rights abuses.
On Feb. 28, Sessions, in his first speech as the new attorney general, suggested the Justice Department's scrutiny of police departments under the Obama administration was making it harder for law enforcement officers across the nation to do their jobs.
"We need, so far as we can, in my view, [to] help police departments get better, not diminish their effectiveness," Sessions told reporters during remarks to the National Association of Attorneys General, according to the New York Times. "We're going to try to pull back on this, and I don't think it's wrong or mean or insensitive to civil rights or human rights."