Donald Trump's staff feeds him fake news from internet trolls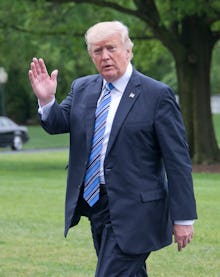 While President Donald Trump smears award-winning news outlets, such as the New York Times and Washington Post, as fake news, his staff is feeding him actual fake news and internet hoaxes in an effort to sway his decisions, according to a new report from Politico. 
In one instance, Deputy National Security Adviser K.T. McFarland gave Trump a printed copy a Time magazine cover from 1977 with the headline "How To Survive the Coming Ice Age," Politico reported. The cover, however, is fake — an internet hoax that photoshopped an actual Time cover from 2007.
Staff had to rush to tell Trump it was a hoax before he angrily tweeted the fake news story that he felt showed the media's hypocrisy, according to Politico.
In another instance, Politico reported that a staffer got now-former Deputy Chief of Staff Katie Walsh booted from the White House by showing Trump a story from internet troll Charles C. Johnson that alleged Walsh was "the source behind a bunch of leaks." Johnson has been permanently banned from Twitter — after he sought donations to "take out" civil rights activist DeRay McKesson — and had been known to spread fake stories that smear reporters and Democratic politicians alike. 
Because Trump doesn't often search the internet himself, staffers said they know it's other White House aides who give Trump the fake news stories that rile the president up, Politico reported. According to the political news site, skeptical aides go to Madeleine Westerhout, Trump's personal secretary, to try and figure out who Trump has spoken to that day who could have given him the fake news stories.