Authorities investigating massive fire at historic New York City synagogue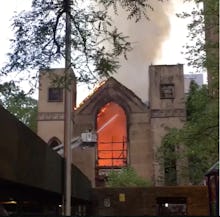 The Anti-Defamation League is weighing in on the reportedly massive fire that erupted at a historic Manhattan synagogue Sunday night.
The fire at Beth Hamedrash Hagodol Synagogue, located on Norfolk Street on the Lower East Side, started around 7 p.m., New York City Fire Department officials told Mic.
The blaze's cause remains under investigation, according to the FDNY.
New York ADL Deputy Director Etzion Neuer said in a statement that the international Jewish non-profit is in touch with investigating law enforcement officials.
"We were heartbroken and disturbed to see the images of a synagogue in flames, even one that has not been in use for several years," Neuer wrote in the emailed statement. "We will continue to monitor the situation as it proceeds."
The raging inferno was extinguished by 12:02 a.m. Monday, according to the FDNY, but New York's ABC affiliate said surrounding streets were still blocked off Monday morning as firefighters put out hot spots.
It took 138 fire fighters and 33 emergency vehicles from three different fire stations to get the fire under control Sunday and two fire fighters received minor injuries as a result, according to an FDNY spokesman.
"A third alarm would signify that is a fairly large fire," an FDNY spokesman told Mic Monday morning.
Enormous clouds of smoke from the fire could be seen billowing through the air from great distances away, according to images posted on Twitter.
Fire officials declined to comment on the suspected cause of the blaze.
"They gotta do their investigation," a spokesperson said. "We don't have any other information than that."
Originally built in 1850, the now inactive 167-year Beth Hamedrash Hagodol synagogue is considered a city landmark. It used to house the city's oldest Orthodox Jewish congregation, according to the New York Times.