SCOTUS declines to review discriminatory North Carolina voter ID law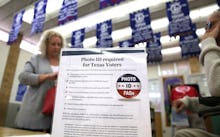 The United States Supreme Court on Monday announced it will not review a North Carolina voter ID law that a lower court ruled discriminated against black voters.
The law, passed in 2013 by state Republicans, was among the most restrictive of its kind. Among other things, it required voters to present government-issued ID in order to vote, eliminated same-day registration and shortened the early voting period from 17 days to 10. 
In its 2016 opinion, the 4th Circuit Court of Appeals said the law targeted black voters with "almost surgical precision."
The law, and others like it, was passed in the wake of a controversial 2013 Supreme Court decision that struck down key parts of the 1965 Voting Rights Act. Specifically, the court ruled in a 5-4 decision that more than a dozen states and municipalities with histories of racial discrimination would no longer require federal oversight to change their election laws.
The court's decision not to review the law came as a surprise, Bloomberg reports.
Writing for the court, Chief Justice John Roberts urged onlookers not to read too much into the decision. "Given the blizzard of filings over who is and who is not authorized to seek review in this court under North Carolina law, it is important to require our frequent admonition that 'the denial of a writ of certiorari imports no expression of opinion upon the merits of the case,'" Roberts wrote.
State Republicans under former North Carolina Governor Pat McCrory had appealed the circuit court's ruling using private lawyers, according to Bloomberg. When McCrory lost the governorship to Democrat Roy Cooper in 2016, Cooper sought to withdraw the appeal, but the attorneys claimed they worked for the state legislature, not Cooper.