Save money on moving expenses: 5 costs you can easily cut during a move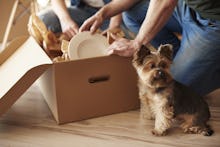 The joys of moving to a new place are promptly squashed when you get wind of how much it's going to cost to transfer everything you own from one dwelling to the next. Plan on paying anywhere from $200 to hire two local movers for a three to four hour job, to $6,300 for a 1,000 mile move out of a 3-bedroom apartment or home. 
Then there are the extra costs: an additional $25 to $35 per hour if you want the movers to help carry in and unpack your stuff, moving insurance (about $20 for every $20,000 in valuables), and storage space for everything you can't fit in your new place (about $127 a month for a 10 foot by 10 foot unit). And don't be surprised if movers tack on an extra fee if they have to walk up a lot of stairs or carry your items a long way from their truck to your new home. 
If mounting costs make you shudder, know you don't have to give in to the sticker prices. Here are five expenses you can skip or get at a discount.
1. Paying for boxes and bubble wrap
This step is not only good for the wallet, but also the environment. If you purchase packing materials from a moving company, you are looking at paying anywhere from $105 to $600 for materials alone, Movers.com says. 
The good news is you can score packing materials for free if you just ask around at stores in your neighborhood. "In order to avoid paying a ton of money, plan to do a little hunting for your materials," Alyse Ainsworth from Move.org said to GoBankingRates. Hit up local retailers and furniture stores for boxes they would otherwise discard, suggests the Huffington Post, and ask friends who recently moved if you can have their boxes. 
You can also save money on boxes by using garbage bags to hold clothing, pillows and other light items. Another hack: Instead of springing for bubble wrap to pack things like small framed photos and breakables, carefully wrap them in clothing, bedding or between throw pillows. Old newspapers or junk mail also makes for amazing packing material.
About the only materials you'll need beyond these are packing tape and markers to label your boxes.
2. Hiring someone to move lighter items
Not everything in your home needs to be transported by a mover. While you may not be physically prepared to move your antique dresser, you might be capable of moving lighter items like clothing, dishes, knick knacks and books.
If its possible to move your belongings in stages after you've signed the lease or deed, you can take a week and move items over slowly until all you have left are the big pieces. Enlist a few friends and it'll take no time.
3. Not Kondo-ing first
Moving smaller items on your own also gives you an opportunity to purge the stuff you no longer use or want. While it may be a little emotional, downsizing and consolidating will ultimately make your new home more comfortable.
"It's okay to part with the possession without parting with the memory," Jennifer Pickett, associate executive director of the National Association of Senior Move Managers said to Time. Take a tip from organizing expert Marie Kondo and get rid of anything what no longer brings you joy.
Not sure what that means, exactly? Think through whether the item serves any one of "three purposes: function, aesthetic purpose or sentimental value," as Christina Giaquinto, professional organizer, said to Realtor.com. "Pick up each item in your home, and ask yourself, 'Why do I have this item? What does this item do for me?'" If you can't answer these questions, say goodbye.
Drop the items off at at charity and get a receipt so you can itemize the deductions on your tax return. Don't have time to make a trip to Salvation Army? Have the movers stop on the way to your new place, so long as it's on the way and won't wind up costing you more money to have them drop it off.
4. Overpaying for movers
If you hire a moving company, there are a few fees that movers may "forget" to tell you about, which you need to address before you sign a contract. Understanding these costs will help you make an informed decision.  
For a big move, get written estimates from three different moving companies in person — avoid phone estimates as your move can't be properly assessed without seeing what you have, GoBankingRates says. Sending cell phone photos and providing square footage might work if you can't get someone in person. Then you can choose the best value option.
Before you sign anything, ask questions: Are fuel costs extra or are they included in the total contract amount? Will you be charged for the mover's transportation and time traveling to your house at the beginning of the move and then again to returning to the office at the end of the move? Are there any extra equipment fees for stuff like dollies, moving blankets and ratchet straps?
With three different estimates in hand you can figure out who is overcharging you and use that knowledge to negotiate a lower rate.
5. Spending too much on a DIY move
While you can save cash renting a truck and moving yourself, beware of hidden fees that could cost you more in the long run. Extras include gas, paying by the mile, supply use and any damage to the truck during use. 
"All told, the extra fees and cost of supplies can end up totaling more than the truck rental in the first place," Cheryl Brouse, realtor for Coldwell Banker Sarazen Realty told GoBankingRates. So before you go the DIY route, factor in all costs and make sure it really is cheaper.
On the plus side, some moving expenses — including the cost of a storage unit — can be deducted from your 2017 taxes, if you are moving for work and your company is not reimbursing you. That's a small silver lining to help ease the pain of moving day.
Sign up for The Payoff — your weekly crash course on how to live your best financial life. Additionally, for all your burning money questions, check out Mic's credit, savings, career, investing and health care hubs for more information — that pays off.