The North Carolina voter ID law that targeted blacks is dead, thanks to the Supreme Court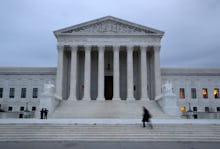 The North Carolina voter ID law that courts previously ruled unconstitutional —because it targeted African-American voters — will not get a second look from the U.S. Supreme Court, the Washington Post reported on Monday.
The high court's nine justices did not explain why they declined to review the lower court's decision. But their move leaves in place a unanimous ruling by a panel of judges on the U.S. Court of Appeals for the Fourth Circuit, which found in 2016 that North Carolina lawmakers had crafted the voter ID law "with almost surgical precision" to disenfranchise black voters.
North Carolina's law was one of several suppressive voting-rights measures passed in Republican-dominated statehouses following the Supreme Court's 2013 decision gutting a key provision of the historic Voting Rights Act that required federal oversight of states with a history of racial discrimination. The Tar Heel State's law was blocked in time for the 2016 election, which saw voters oust Republican Gov. Pat McCrory for Democratic Gov. Roy Cooper.
"We need to be making it easier to vote, not harder — and the court found this law sought to discriminate against African-American voters with 'surgical precision,'" Cooper said in a statement after the Supreme Court move, according to the Post. "I will continue to work to protect the right of every legal, registered North Carolinian to participate in our democratic process."
The decision was cheered by civil rights activists on Monday. "Today we experience a victory for justice that is unimaginably important for African Americans, Latinos, all North Carolinians, and the nation" the Rev. Dr. William J. Barber II, outgoing president of the North Carolina NAACP, said in a statement, according to the Post.
There are seven states that still enforce a strict voter ID law, including Georgia, Indiana, Kansas and Mississippi, according to the National Conference of State Legislatures.