Olympian Ibtihaj Muhammad wouldn't sleep "if I closed my mouth on social issues"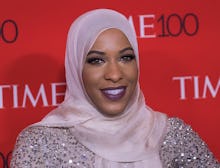 Olympian fencer Ibithaj Muhammad made history in 2016 when she became the first hijab-wearing Muslim to win a medal, but she's made even more headlines for her outspoken advocacy on behalf of Muslim women in the United States. And in a new interview with The Nation, she made it clear she's not going to stop any time soon. 
In March, she wrote an open letter to President Donald Trump after he signed a revised executive order prohibiting travel from six majority-Muslim countries. "You seem to see the hijab I wear as a signal of threat and cause for fear," Muhammad wrote. "You've said, 'I think Islam hates us.' That is not only wrong, it provokes fear and hatred, and as we have seen it also provokes violence against Muslims and our places of worship."
In The Nation interview, adapted from columnist Dave Zirin's Edge of Sports podcast, Muhammad's description of her approach to politics serves as a good working example of the concept of "intersectionality" — the phrase coined by legal theorist Kimberlé Crenshaw to explain how interlocking systems of oppression can shape a person's life. In this case, Muhammad uses her multiple identities as a Muslim, woman and African-American to inform her outspoken approach to social justice.
Muhammad also talked about the importance of calling out police brutality:
I have uncles that also served in the police department in New Jersey, and I know that when I think of my dad and the role he played in protecting and serving, and my uncles and the roles they played, and I also think of my brother who is African-American male, and how African-American men are disproportionately targeted and killed by police officers in this country, I feel a responsibility to speak out against police brutality and police violence.
"I know that a lot of athletes shy away from social issues," Muhammad continued. "[As] an athlete who looks up to Muhammad Ali, I feel that it is my responsibility to use my voice and to use my platform for change and for good. I don't think I would be able to sleep at night if I closed my mouth on social issues and said, 'I'm not going to speak about it because it doesn't affect me.'"
Read more at The Nation.