Black Lives Matter, civil rights groups give DOJ's drug memo a resounding 'no'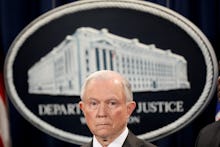 Black Lives Matter movement activists and national civil rights organizations have major criticisms of Attorney General Jeff Sessions' new memo reinstating federal drug sentencing policies that have played a heavy role in perpetuating mass incarceration. The policy is out of step with shifting attitudes around the criminal justice system, which has often doomed formerly incarcerated people to lifelong difficulties finding work and affordable housing, and furthering their education.
On Tuesday, representatives of several criminal justice reform groups plan to rally outside of the U.S. Department of Justice headquarters in Washington, D.C., to call for Sessions to abandon what they call a "return to the War on Drugs."
In searing statements, the NAACP, the Leadership Conference for Civil and Human Rights and voices from within the Movement for Black Lives, among others, cried foul after Sessions announced Friday his instruction to U.S. attorneys that they throw the book at drug offenders. The directive ignores state-level sentencing reform trends, and will mean harsher punishments for nonviolent defendants, as well as mandatory minimum sentences that have been disproportionately leveled at African-American and Latino communities, civil rights leaders said.
"The attorney general's directive suggests that this long ugly era of mass incarceration now has eternal life," Cornell William Brooks, NAACP president and CEO, said in a statement. "Contradicting commonsense, conscience and experience of red and blue state governors, this new policy takes us quickly backward."
Inimai Chettiar, the justice program director at the Brennan Center for Justice at New York University School of Law, said Sessions' approach is outdated and "led to this mess of mass incarceration" that has cost taxpayers billions of dollars. "Sessions is leaving little to no room for prosecutors to use their judgment and determine what criminal charges best fit the crime," Chettiar said in a statement.
The memo urges federal prosecutors to seek the "most substantial sentence" for drug crimes, even those deemed low-level, nonviolent offenses. This is a departure from an Obama administration policy implemented by Eric Holder, the former attorney general. Holder directed U.S. attorneys to avoid seeking mandatory minimum sentences against nonviolent drug offenders, under specific guidelines. That policy, along with President Barack Obama's clemency program, saw the federal prison population drop nearly 14% to 188,800 in April from 219,300 in 2013.
"The Obama administration and Holder didn't do enough, I think, in the perspective of the Movement for Black Lives and other folks, to really think about how we de-incarcerate," Marbre Stahly-Butts, a member of the Movement's policy table, said in a phone interview. "But I think the steps that they took were really around ending this incredibly punitive system [that had no] regard for people's circumstances or their humanity."
Stahly-Butts said Sessions has made it clear how little regard he has for black and brown lives. "Quite frankly, Sessions' move is not only out of line with bipartisan consensus around the failures of the War on Drugs to actually address the issues of our communities, but it is in line with a mentality that I think many of us hoped was going out of style — to address every issue that we face with a cage and handcuffs."