Bill Cosby reminder: Racism isn't an excuse for allegedly raping women for 40 years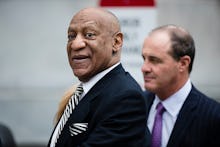 Two things can be true at once: America can have a history of brutalizing black men, and Bill Cosby can have a history of brutalizing women irrespective of their race.   
A little over two weeks before his criminal trial is set to begin on June 5 in Philadelphia on charges of felony sexual assault, the disgraced comic and his daughters have gone on a media blitz of sorts to proclaim his innocence, according to CNN. More tellingly, they're all saying that racism is at the root of the more than 50 separate allegations of sexual assault across several decades.
Cosby did an interview with center-right radio Philadelphia-area radio host Michael Smerconish, and said that it was time he defended himself publicly. "I decided I think it's time for me to do something so that the people who still have faith in me, people who are still wondering what I sound like, as opposed to the National Enquirer, which is very interesting reading when they write about me," he said.
His daughters were more aggressive. "My father has been publicly lynched in the media," Ensa Cosby said in a prerecorded audio statement that was played on the popular radio program The Breakfast Club, which is syndicated by the New York City-based hip-hop and R&B station Power 105.1 FM in more than 50 markets. Erinn Cosby added: "Over the last few years, my family has been forced to sit by and watch as our father has been attacked in the media. And it has been difficult to remain silent to protect our loved ones from scorn as gossip fueled in the news as big entertainment. But what you hear in the media is a far cry from who our father is."
It is both a tired and a provocative defense, because it exploits some of America's most gruesome history. Between 1882 and 1968, an estimated 4,743 people were lynched in the United States. An overwhelming majority —more than 72% — were black. And of those, a significant portion were black men who were accused with little evidence of raping white women, according to the NAACP. It took more than half a century for the white woman at the center of Emmett Till's 1955 lynching to come forward and say that she lied in her initial story of him talking suggestively and cornering her in a store. Nonetheless, that lie left him dead.
But Bill Cosby is not a victim. 
Cosby was once one of the most popular entertainers on earth. He started off in the early 1960's as an edgy stand-up comedian, and then built a brand of relatable family comedy across decades that were otherwise deeply racially polarized. When crack cocaine flooded black communities in the 1980's and tore apart families, there was Cosby, offering the world — and black folks in particular — an aspirational example of normalcy with his comfortably upper middle class black family on the Cosby Show. 
After the show ended — and after his son, Ennis, was killed in an attempted robbery — the entertainer made headlines by scolding black people for their failure to embrace culturally conservative values. In his now-infamous 2004 speech before the NAACP, colloquially known as the "Pound Cake Speech," Cosby berated young blacks "with names like Shaniqua, Shaligua, Mohammed" for wearing their pants too low and failing to live up to the promise of the Civil Rights Movement.
Meanwhile, according his accusers — and by his own admission — Cosby was allegedly giving women incapacitating drugs and initiating sex acts with them while they were under the influence. If true that is, for all intents and purposes, rape. But Cosby wielded enough influence and had enough money that he was able to avoid criminal charges for decades, on the rare occasion that anyone reported him. 
But times have changed. Sexual assault survivors have fought for more awareness, and as a result, Cosby's alleged crimes couldn't be ignored any longer. Almost on a whim, another black male comic, Hannibal Buress, made a joke about the then-already well-documented history of sexual assault allegations against Cosby. The joke went viral. And then women — young and old, black and white — started coming forward — again, and again, and again and again.
So, yes. There is a brutal history of black men being tortured and murdered by mobs of white people because of the mere speculation that those men even thought about touching white women. 
Bill Cosby is not one of those men. But he's apparently not above using those men's brutal murders for his own benefit.