Attorneys for officer who shot Philando Castile will argue smoking weed led to his death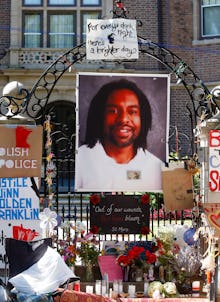 Attorneys for the Minnesota officer who fatally shot Philando Castile in July will be allowed to present evidence showing Castile had marijuana in his system the day he was killed, a judge has ruled.
But St. Anthony police officer Jeronimo Yanez won't be allowed to re-enact Castille's shooting in court during his trial, which is scheduled to begin May 30, according to the Star Tribune.
Yanez has been charged with manslaughter for shooting and killing Castile during a traffic stop July 6 in Falcon Heights, Minnesota, a suburb of St. Paul.
Castile's girlfriend, Diamond Reynolds, and her then 4-year-old daughter, Dae'Anna, were in the car when Yanez shot Castile after Castile told the officer he was carrying a licensed firearm. Reynolds broadcasted the shooting's immediate aftermath on Facebook Live, bringing worldwide attention to incident, which occurred only a day after Alton Sterling was shot and killed by police in Baton Rouge, Louisiana.
"How is this relevant?"
During a pre-trial hearing for Yanez on Tuesday, Ramsey County District Court Judge William H. Leary III denied motions by Yanez's defense attorneys seeking to bring up Castile's criminal record or his past marijuana use during the officer's trial, according to the Star Tribune.
The judge also denied a motion to present details of an unrelated alleged assault case involving Reynolds.
Defense attorney Earl Gray wanted the judge to allow jurors to see video of an interview Castile's girlfriend gave to St. Paul police, allegedly showing she lied about her whereabouts when officers questioned her about an alleged assault that had nothing to do with Castile's shooting death.
"How is that relevant to this case?" Leary asked during Tuesday's court hearing, according to the Star Tribune.
"We're going to get into the bad act of not telling the truth to law enforcement," Gray replied.
"I think it's absolutely clear ... it has no relevance in this case," Leary responded.
Leary ruled Yanez's defense team could, however, present evidence showing Castile's alleged use of marijuana the day of the shooting.
Gray previously told the court Castile was "stoned" the day he was killed, arguing in December that Castile's intoxication contributed to his death in a request to dismiss the case that was denied, according to USA Today.
Federal prosecutor Jeffrey Paulsen, who is working with the Ramsey County attorney's office on Yanez's case, said an expert for the prosecution would testify there's no correlation between Castile's alleged drug use and Yanez shooting him to death.
"Our expert says there is no way any reliable expert could make that judgment," Paulsen said, according to the Star-Tribune.
The New York Times reported in July that Castile, a 32-year-old school cafeteria worker, had been pulled over by police 49 times in 13 years, mostly for minor offenses. Castile, who had no felony record, received almost two dozen tickets within the first six years of receiving his driver's license. Most were for driving without insurance or with a suspended license, according to the Times.
NBC News reported Yanez told his fellow officers in July that he mistook Castile for a robbery suspect due to his "wide set nose," later adding that Castile was sweating heavily and appeared "very nervous" while giving the officer his wallet.