A teenager designed a pocket-sized satellite that will fly on a NASA mission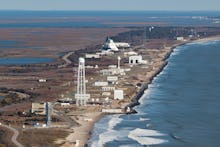 An 18-year-old created the world's lightest functioning satellite, and it's going to be launched on a real NASA mission next month.
Rifath Sharook, who is from Tamil Nadu, India, made the pocket-sized satellite for a competition called Cubes in Space, which is an international design challenge that asks students aged 11 to 18 to fit their space-worthy invention inside a 13-foot cube.
The pocket-sized 3-D printed satellite is much smaller than that. It weighs just 0.14 pounds and will measure the rotation, acceleration and magnetosphere of Earth, Sharook told Business Standard. 
Sharook was the lead scientist on the satellite, but worked with a team of other students from Space Kidz India, an education-focused program that works to "encourage the student community into space research," according to an email from the group's founder and CEO, Srimathy Kesan.
The team named the satellite KalamSat in honor of the country's former president, A.P.J. Abdul Kalam, who led the nation from 2002 to 2007 and was also a renowned engineer and scientist. KalamSat will operate for about 12 minutes on a four-hour round trip flight in space, which will launch from NASA's Wallops Flight Facility in Virginia.
"We are extremely excited and [are] looking forward to the launch," Kesan said by email.