Zaytoven talks his Gucci Mane "Piano Nights" show, how he plans to take it even bigger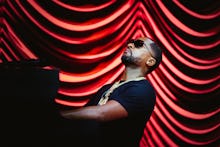 NEW YORK — Few crooners or lounge singers ever looked as icy as Gucci Mane and Zaytoven did onstage Tuesday during their Piano Nights Red Bull Music Academy performance. True to his bars, the sparkle from Gucci's chains and jewelry cut through the dim light in The Box, the mythic New York vaudeville and burlesque club, as he spit his trap raps into an old school 55. 
"I feel like one of the Temptations," Gucci said, sharing a quick laugh with Zaytoven, a producer and instrumentalist lauded in hip-hop for his impressive piano skills and the melodic depth he's brought to recent releases by Gucci Mane, Migos and Future. He accompanied the Atlanta legend on piano and added lush embellishments on their decade's worth of hits. 
It was one of the more fully realized attempts at an ongoing trendy trap experiment: mixing in epic choral or acoustic live accompaniment to the style's tight, sub-heavy beats, recent examples being 2 Chainz and Gucci Mane's live gospel rendition of "Good Drink" and Migos' orchestral Trap Symphony remixes. The Piano Nights performance was actually the second time Gucci and Zaytoven attempted this setup, after a stripped down NPR Tiny Desk concert that aired in December 2016.
"That was our first time even trying it, we never rehearsed or nothing," Zaytoven said during sound check before the show. "It turned out so good. Seeing back on YouTube and seeing the response from it, just made us — I know it made me wanna do a full concert like that."
Zaytoven seemed far more comfortable playing with the live arrangement, though he's just as new to it as Gucci. As Zaytoven's manager and DJ, DJ Roots Queen, noted, the first time he attempted to play live was during Gucci Mane's Gucci & Friends Show in July 2016.
"Zay was a little resistant at first," DJ Roots Queen said. "He's a family man, he's a church guy, so he's always trying to figure out how he can stay home and make beats and get the check. But the first time they saw him on the keytar, then Future wanted him and Gucci wanted him and it's kind of snowballed from there."
Any resistance has almost entirely evaporated. In a seemingly impromptu moment, Zaytoven asked Gucci to spit one of his favorite songs of the rapper's, "First Day Out," over solo piano, no backing track. It was by far the most powerful moment of the show, and can be seen at the 33-minute mark in the below video, which will be available to stream for the next 30 days.
During a conversation with Mic, Zaytoven talked about how much further he wants to take this new live format and weighed in on the ongoing debate about whether hip-hop's younger generation is abusing or improving the genre.
Mic: What have you been looking at for inspiration for tonight's show? Who are you trying to channel up there?
Zaytoven: I'm really not trying to pattern myself after anybody because I feel like I'm different and unique. I really want to turn this into my own show soon. You know, I play the keytar; I play the keys; I make beats; I DJ. I'm trying to formulate everything into one big Zaytoven Experience show. That's what I got in mind for the future.
Are you thinking about that being paired to the album coming up?
Z: That's going to be part of my touring when I do drop the album, when I drop the Trap Holiday album. I wanna do a tour doing that, the Zaytoven Experience.
How do you feel hip-hop would be different if more producers took the time to learn instruments like you did?
Z: It might be too musical if everybody took the time to learn instruments. Because hip-hop is meant to be raw, still meant to be edgy and unique. I think it's good that certain ones do and other ones don't.
I know Metro Boomin' has cited you as the "godfather" of the Atlanta sound, which so many new producers are trying to bite today. How do you go about keeping your sound fresh? How do you stay ahead?
Z: Well, you know, I think my sound is so unique, even though these guys come in — when Metro come in, when a Sonny [Digital] or a Mike Will [Made It], or whatever. They create their own thing, and my sound is something that they can't really duplicate because they're not musicians. They're on top of staying in tune with the newest talent, the newest rap guys out, the newest producers. All that helps me stay relevant and helps my sound stay relevant.
Tell me about meeting with Gucci when he got out of prison this most recent time. People were saying he had this new glow.
Z: There was definitely a difference, but for us it was pretty much the same. Every time we see each other right after he get out, we super happy to see each other. We're super happy to get to work. He definitely got the new glow, though. And I think that's because the amount of time he sat down, kind of helped him reevaluate everything, helped him kind of detox. And he came out with a new mindset.
So you picked up your talents in playing church. Are you still a churchgoing man? You still play over there?
Z: I still play every Sunday.
How does it feel sitting down at the piano there, after all you've done, after everyone you've worked with? 
Z: It's definitely refreshing. It's almost — I can't wait to get back to church to do that. That's where I feel like I belong. I might fly to London. I might go to Paris. But it's real refreshing to sit back down at the organ on Sundays. It almost balances everything out.
You've probably picked up on this whole ongoing debate about this new generation of rappers — like Lil Uzi Vert, Lil Yachty — and whether they're carrying forward hip-hop's tenets in the right way, respecting the elders. Where do you stand on that?
Z: A lot of the artists that are considered hip-hop now, they're not just hip-hop. A lot of these guys are rock stars and not just hip-hop guys. They do extra edgy stuff, stuff normal hip-hop guys wouldn't do. I don't think they're trying to disrespect hip-hop, I just think they've got other things they're really into. They're probably listening to other types of music, watch other types of people. And that's why they act like that.
Does it feel productive to be calling people out, policing the styles?
Z: Nah, I can't look at it like that. Because people say I'm not hip-hop, so I definitely don't look at someone that way or listen to talk like that. 
Mic has ongoing music coverage. Follow our main music hub here.