Solange penned a beautiful love letter to her young, black self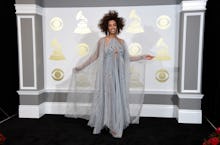 Solange is on the cover of Teen Vogue, and instead of the typical profile, she's written a letter to her younger self: an ode to where she's been and where she's hoping to go next.
Here's an excerpt:
Because you have your mama's blood, you are fiercely independent and outgoing. you've been starting petitions, building tree houses, and starting clubs since as long as you can remember.
Solange has become a voice of her generation in recent months with the release of her 2016 album, A Seat at the Table. The project became a musical soundtrack for the political uncertainty of being black in America, and was also a feminist anthem. She's emerged recently out of the shadow of big sis Beyoncé; A Seat at the Table become a Billboard No. 1 album in 2016. 
Read more at Teen Vogue.