Times Square's 8-year redesign is a blueprint for the city of the future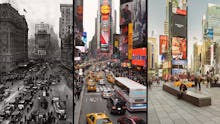 Within the tiny stretch of land on Broadway and Seventh Avenue between 42nd and 47th Streets — only 0.1% of New York City's total land area — lies a whopping 11% of the city's economic output.
On average, 330,000 people visit Times Square every day, a mixture of 56% locals and 44% out-of-towners. To call it "busy" would be to call Celine Dion merely "capable" of belting out an F5 note.
But while the number of daily visitors continues to rise, for nearly a decade Times Square has quietly gone through a dramatic reinvention, all in an effort to make it more pedestrian friendly. And while it may look like an easy solution for the notoriously congested area, its decades of debate and planning show just how complex the restructuring of the most visited destination in the United States truly has been.
Now, with its recent completion, the pervasive image of Times Square as the epicenter of hustle and bustle has begun to fade. What has emerged could be the future blueprint for open civic squares.
How do you solve a problem like Times Square?
Since officially being dubbed "Times Square" in 1904, the small stretch of land has had a bad rap. From "lascivious orgies" to illegal drinking, its infancy in the 20th century was plagued with a reputation for seediness and danger.
A few decades later, in 1960, the New York Times ran a front-page article titled "Life on 42nd Street: A Study in Decay." And though attempts were made throughout the ensuing decades to overhaul the area (which at one point included a planned theme park), progress was halted by economic downturns. 
Though the 42nd Street Development Project in the early 1990s saw a dramatic shift in the area's perception (often referred to as the "Disneyfication" of Broadway), it did nothing to mitigate the congestion, pollution and inherent danger in placing hundreds of thousands of fast-moving bodies among the city's already marred traffic pattern. 
A solution is born
The transformation began in May 2009, with a partnership between the NYC Department of Transportation and Department of Design and Construction closing down Broadway to car traffic. Then began the clearing out of decades of old infrastructure congesting the square. Next came 10 50-foot granite benches. 
Finally, in 2010, architecture and landscape architecture firm Snøhetta was chosen to lead the design of the new permanent plaza in Times Square, formally beginning the eight-year process toward permanence.
Throughout those eight years, hundreds of people have taken part in making this project a reality, Nick Koster, Snøhetta project architect, said in an interview. Those included city officials, community members, the Times Square Alliance, multiple agencies, architects, landscape architects, engineers, specialized consultants, product manufacturers and construction workers.
The result: The once vehicular-dominated throughway has been replaced with permanent pedestrian plazas, including the elimination of curbs, sculpted granite benches and widened sidewalks along Seventh Avenue.
The project wasn't without hurdles
So what took so long?
"Despite its fame, Times Square has been poorly understood over the years," Craig Dykers, Snøhetta founding partner, said in an interview. "For half a century, numerous plans for Times Square had been proposed by designers to help Times Square meet its changing needs and manage pedestrian and vehicular congestion. None of these plans found traction or were approved."
Why? Because of the 20-plus city agencies, clients and consultants that were required to sign off on the project in an attempt to prioritize both pedestrian safety and quality design. Another big hang-up: The site had to remain open to the public 24/7 throughout the duration of construction.
"This, taken in consideration with the magnitude of the crowds that pass through the site — on average, 300,000 people move through Times Square each day," Koster said, "may shed some light on the incredible amount of coordination that had to take place between the design team, contractor, public agencies and private utilities below grade in order to develop a maintenance and protection plan for the new design to be installed."
The early numbers speak for themselves 
Since completion in 2016, the reconstruction has doubled the amount of pedestrian-only space within Manhattan's core. There's been a 20% decrease in crime, a 40% decrease in pedestrian injuries and a 60% decrease in pollution. 
And early reviews are exceptional. Over 80% of visitors agree the pedestrian plaza makes Times Square feel safer, while 93% agree it is now a more pleasant place to be for the 40 million people who pass through the civic space.
What can other cities learn from Times Square?
So could other major open-space tourist destinations adopt similar models after the success of the Times Square redesign? 
"Cities need to be smart," Dykers said. "It is critical now more than ever to evaluate how much space is needed for cars and traffic and ask if there is space that would be better tailored to pedestrian use. 
"In each case, we must ask: Does removing the street provide value for users as well as adjacent businesses? How can we continue to cultivate open, vibrant and unique public spaces that increase public safety and promote diverse ways of thinking? These are questions that are being asked with greater urgency, especially as issues of pedestrian safety and secure public space are more pressing than ever."