Roger Ailes net worth: Former Fox News CEO's pay, severance and wealth upon his death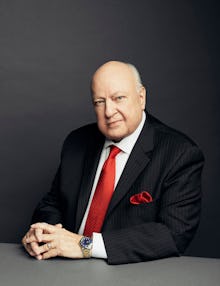 Roger Ailes, the controversial former CEO of Fox News, was reported dead Thursday morning at the age of 77. He has left behind a legacy of scandal and a sizable fortune.
Fox News's former head had a reported net worth of approximately $100 million as of 2017, and he was earning a reported $20 million a year while still at the network, according to Newsweek. Ailes pioneered Fox News in 1996, building the news outlet into a conservative media powerhouse, despite the tag line of being "fair and balanced," as CNN reported.
Ailes was riding high until last summer, when a number of allegations of sexual harassment surfaced from at least six women who worked at Fox. The fallout resulted in Fox and its parent company paying $45 million in settlements for six separate sexual harassment claims. One claim came from anchor Megyn Kelly, who left Fox for NBC, and who may have been the final force that ousted Ailes.
News that Ailes would be stepping down as chairman rattled followers when Fox News co-founder Rupert Murdoch made the announcement during the summer of 2016. Ailes left the company with a severance of $40 million, covering approximately two years of employment, the New York Times reported. Part of the deal was that Ailes could not start a Fox News competitor.
Recently Ailes had purchased a Palm Beach, Florida, mansion to the tune of $36 million, Town and Country reported. Records show Ailes planned to make the six bedroom, 10 bath home his permanent residence in order to enjoy the benefits of Florida's bankruptcy laws.
Further details of Ailes' passing remain unconfirmed. "I am profoundly sad and heartbroken to report that my husband, Roger Ailes, passed away this morning," Ailes' wife, Elizabeth Ailes, said in a statement first posted to conservative news site Drudge Report. "Roger was a loving husband to me, to his son Zachary and a loyal friend to many."
Sign up for The Payoff — your weekly crash course on how to live your best financial life. Additionally, for all your burning money questions, check out Mic's credit, savings, career, investing and health care hubs for more information — that pays off.