9 podcasts to listen to on your summer road trip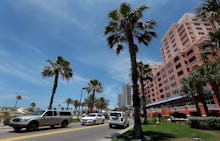 Winter may be coming to Game of Thrones, but in the Northern Hemisphere, summer is near. The temperature is rising, the beaches are crowding and people are tanning. Everyone likely has their own plan for the hot weather: Some may hit the beach and stay there for the next four months (bring sunscreen). Others may spend each weekend seeing a new blockbuster movie. Then there are the travelers.
Taking a plane to some new country is one traveling option. Another may be embarking on a good old-fashioned road trip. And if choosing the latter, no matter the destination, a pretty big requirement is something entertaining to listen to. Music is one way to go, but to really kill the time, there may be nothing better than a great podcast. Need some podcast suggestions for that road trip? Look no further (well, look below). 
In order to make sure every potential road tripper has something to listen to, the following suggestions will cover a broad range of categories. Whether you are a fan of film, music, television, politics or wackiness, there's a podcast waiting to be heard. 
1. You Must Remember This 
For those looking to go beyond their cinematic comfort zone and explore stories you barely knew existed, You Must Remember This, is the perfect podcast. Hosted by former LA Weekly film critic Karina Longworth, You Must Remember This is a well-researched exploration of early 20th-century Hollywood. Longworth is often joined by film historians and filmmakers, making the discussion interesting for all cinephiles. 
2. Pod Save America 
If the current climate has has you hankering for something a bit more political, Pod Save America is a pretty solid choice. Hosted by former aides to President Barack Obama — Jon Favreau, Dan Pfeiffer, Jon Lovett and Tommy Vietor — Pod Save America is meant for those trying to figure out how to navigate Donald Trump's presidency. Each episode features guests ranging from politicians to comedians, so bet on some funny but informative conversations. 
3. The Bill Simmons Podcast 
Love him or hate him, it is hard to argue against the popularity of Bill Simmons' podcast. While The Bill Simmons Podcast is primarily meant for sports fanatics, episodes will often stray into pop culture territory with celebrity guests, like Aziz Ansari and Adam Carolla, often joining the conversation. 
4. The Vulture TV Podcast 
Love television so much that listening to people talk about it is a necessity? Well then, The Vulture TV Podcast must be heard. Hosted by New York Magazine television critic Matt Zoller Seitz and Vulture's Gazelle Emami, The Vulture TV Podcast not only discusses some of the best shows on the air, but also why they matter, and what could be done better. 
5. Song Exploder 
Is there anything better than listening to music? How about listening to musicians discuss their creative process? If that sounds interesting, than look no further than the Song Exploder podcast. Hosted by Hrishikesh Hirway, Song Exploder brings listeners inside the minds of their favorite artists, as guest musicians explain exactly how, and why, their songs were made. 
6. Welcome to Night Vale 
Looking for something a bit different? Like, really different? Welcome to Night Vale may just be that quirky podcast. Written by Joseph Fink and Jeffrey Cranor, with narration from Cecil Baldwin, Welcome to Night Vale is the go-to source for updates on the small town of Night Vale. Never heard of it? It's a fictional town. And that's what makes it so different. 
7. 2 Dope Queens
Hosted by comedians Phoebe Robinson and Jessica Williams, 2 Dope Queens covers the topics that really matter: "Sex, romance, race, hair journeys, living in New York and Billy Joel." For those looking to laugh during that road trip, 2 Dope Queens is a solid option. 
8. Unsolved Murders: True Crime Stories
Fans of true crime series like Making a Murderer can continue to satisfy their appetite for compelling mysteries by listening to this podcast. Unsolved Murders: True Crime Stories takes listeners along for one hell of a ride, as the hosts explore, investigate and try to solve actual cold cases. From the Zodiac Killer to former Superman actor George Reeves' mysterious death, Unsolved Murders tackles some of the most interesting cold cases in history. 
9. The Daily
Trying to understand what is going on in the world today? Then the New York Times' podcast The Daily is a must-listen. Hosted by Michael Barbaro, The Daily streams five days a week, so listeners can stay up to date on all the most important news. 
Mic has ongoing coverage of Podcasts. Please follow our main Podcasts hub here.