Missy Elliot's sample of Rachel Jeantel was a nod to Trayvon Martin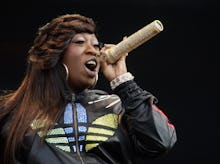 Missy Elliot gave a subtle nod to Trayvon Martin with a sample in 2015's "WTF (Where They From)."
The fact that was recently unearthed in a stunning profile for Elle by Rachel Kaadzi Ghansah. BuzzFeed's Saeed Jones pointed out the excerpt from the profile out on Twitter on Thursday.
The sample was the voice of Rachel Jeantel, Trayvon Martin's teenage friend who was also the last person to speak to him just moments before he was gunned down by neighborhood watchman George Zimmerman on February 26, 2012. 
Zimmerman was later acquitted of criminal charges related to Martin's death, but it was Jeantel who was symbolically tried, too, with observers criticizing her weight and grammar. At one point during the trial, Zimmerman's defense attorney, Don West, made pointed out dramatically to the jury that Jeantel could not read cursive. 
Here's a portion of her testimony before the court, which was picked apart by CNN in 2013.
The sample is important, Kaadzi Ghansah writes, because it's so rare. "Pharrell and [Missy] have done a remarkable thing that has reversed what usually happens to the words of girls who look like Rachel Jeantel," Ghansah writes. "They have preserved them for the record, credited her for her voice and her words, and made sure she got paid."
You can read the full profile over at Elle.