Planned Parenthood ready to close four Iowa clinics, after funding attack from lawmakers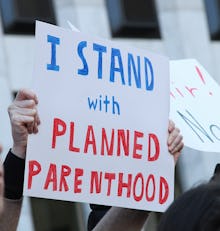 A string of political scandals eclipsing the Trump agenda, and by extension the future of the Republican Party, have not distracted from Iowa's GOP-led efforts to choke off funding to Planned Parenthood. As a result of a new state law preventing Medicaid patients from seeking health care through the family planning provider, Planned Parenthood announced on Thursday that it will have to close four of its Iowa clinics, the Huffington Post reported.
The clinic closures in Sioux City, Burlington, Keokuk and the Quad Cities will effect nearly 15,000 patients a year in Iowa, according to HuffPost. The health centers will shut down in June. 
The affected cities are located in counties contending with higher than average rates of chlamydia — and women near two of the closing clinics will have to drive over an hour to reach an alternative family planning provider. A Planned Parenthood official said the clinics cannot afford to stay open without government funding.
"I am concerned about the health and well-being of the people in Iowa who now can no longer turn to their trusted health care provider," Dr. Raegan McDonald-Mosley, Planned Parenthood's chief medical officer, told HuffPost. "What is happening in Iowa is what we could see across the country, if Congress passes this dangerous law to defund Planned Parenthood. This is hardest on people who already face barriers to accessing health care — especially people of color, young people, people with low to moderate incomes and people who live in rural areas."
On Friday, Republican Gov. Terry Branstad signed a $7.2B budget bill that blocks $3 million in federal Medicaid funding from family planning and creates a state-run family planning program. The new program excludes any organization that provides abortions to women, including Planned Parenthood. 
Republican state Sen. Amy Sinclair said Iowans would still have access to Medicaid provided health care, but only "in a way that is balanced with the needs and the concerns and the conscientious objections of those taxpayers that we represent who frankly are offended to their very soul by the intentional and unnecessary termination of the life of another human being," according to HuffPost.
But some health care providers in Iowa are expressing doubt that they can serve as a proper alternative, if Planned Parenthood isn't there.