Pennsylvania college plans "teach-in" as response to planned KKK rally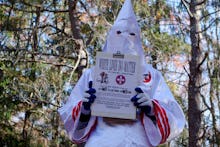 What do you do when the Klan comes to your town?
At least one Pennsylvania professor has decided to battle the bigotry and hatred with tolerance and education this weekend.
Africana studies professor Amanda D. Kemp of Lancaster, Pennsylvania's Franklin & Marshall College hosted a campus "teach-in" on Friday after earlier reports began circulating that the Ku Klux Klan would stage a rally and a cross-burning in the area.
"We decided to use the alarm that spreads in the community when the Klan says it's going to come, to draw people out," Kemp told Lancaster Online. "The threat is credible," she added.
Mic reached out to Kemp who has not yet responded to speak further about her event.
Recent posts on the white supremacist website Stormfront indicated various groups of the Ku Klux Klan will host their second "major" rally of the year in the Lancaster area on Saturday. A cross-burning event is also planned, but the exact location of both hasn't been confirmed, according to reports.
"The East Coast Knights of the Ku Klux Klan will start our year of by holding a cross lighting in Lancaster,  Pennsylvania, on May the 20," Stormfront forum user Klavalier wrote in a post on March 8, calling the planned rally, "a family event."
"Most Klans and [white nationalists] are invited," he added.
The Southern Poverty Law Center, which monitors hate groups, said the Stormfront user accounts posting about the rally are connected with multiple KKK leaders.
The NAACP's Lancaster branch is hosting a competing rally from 3 p.m. to 5 p.m. on Saturday at the steps of the Lancaster County Courthouse, according to the group's Facebook page.
The Klan's weekend rally is the second organized by the newly-formed American Alliance of Klans (AAOK), a coalition of at least four individual Klan groups from Maryland, Alabama, Mississippi and Florida, according to the Southern Poverty Law Center.
SPLC spokesman Ryan Lenz said the alliance's goal is to capitalize on the perceived momentum the "racist right" gained during the rise and election of President Donald Trump to recruit more members and restore the Klan to its former glory as a once-formidable social and political force.
"Up until recently the Klan was a shell of its former self," Lenz said in a Friday phone interview. "Such of this period and time, the Klan feels that if they band together they have a future. They can become the sizable and powerful political block that they were in the early 20th century."
A sign of things to come?
The Hudson, Florida-based United Dixie White Knights hosted the new Klan alliance's inaugural rally in Dixie County Florida on March 11. They burned a cross and wrote the Klan alliance's founding documents, agreeing to host joint gatherings at least four times a year, according to the alliance's website.
Klan groups, Neo-Nazis and skinheads have tried and failed in the past to form major alliances, but varying philosophies, political in-fighting, "ego trips" among leaders and criminal elements among members have led to their downfall, according to the SCLC.
Yet Trump's rise and the rise of the so-called alt-right, which itself could be considered as just a rebranding effort for white nationalists, have Klan enthusiasts thinking this time could be different.
"You've got organizations that are suddenly calling themselves alt-right because to be called alt-right is to be assigned to a large group of likeminded racists who are claiming single-handed credit for getting Trump elected," Lenz said.
"People on the racist right feel it's the best chance they've had in a generation to affect political change. They don't have to hide their beliefs the way they once maybe had to," he added.
Exact membership counts of Klan groups are hard to come by, but judging by pictures of the new alliance's first rally, they're not exactly a political force just yet.
Recent history, however, indicates it doesn't take many white nationalists to cause a problem in your town.
A growing problem
On March 20, a self-proclaimed white nationalist named James Harris Jackson, 28, traveled from Baltimore to New York City where he fatally stabbed a random black man named Timothy Caughman with an 18-inch blade.
On April 16, alt-right members brawled with Antifa [anti-fascist] demonstrators in the streets of Berkeley, California, leading to at least 20 arrests.
On May 8, multiple people were arrested when pro-confederate monument white nationalists clashed with anti-monument protesters in New Orleans during competing demonstrations about the planned removal of a statue of Confederate Gen. Robert E. Lee.
"When the Ku Klux Klan gets together and comes to your town, they're not coming to lend an olive branch and say 'Let's all be friends,"' Lenz said. "We've seen in the last couple of weeks what happens when sizable groups of racists and anti-racists get together. There's generally violence. That's a concern."