Joe Biden says he "very well may" run for president in 2020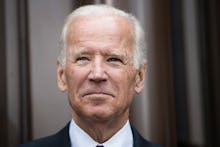 Trump administration officials may see Elizabeth Warren as their greatest threat to re-election in 2020, but maybe they should also keep an eye on Joe Biden.
The former vice president told attendees at a hedge fund conference in Las Vegas Thursday evening that he hasn't ruled out running against President Donald Trump in the next election, when Biden will be almost 78 years old.
"I may very well do it," Biden said about running for office again, according to CNN.
But first, Biden said he has to focus on putting his family back together as he and his loved ones continue to deal with the May 2015 death of his son Beau.
"Could I? Yes. Would I? Probably not," Biden added about a future White House bid. "At this point, no one in my family or I have made the judgment to run."
Biden told the crowd he made some financial promises to his wife, Jill, that he has to keep, including paying off their mortgage, but if those obligations are met, running for office again is a real possibility.
He also had a lot to say about the country's state of affairs and Hillary Clinton's failed presidential bid.
"I never thought she was a great candidate. I thought I was a great candidate," Biden said, adding that, "Hillary would have been a really good president."
Biden's past White House bids
At one point in 2015, Biden, former President Barack Obama's right-hand man, was the most popular choice to win the 2016 election. But as Clinton's candidacy continued to pick up steam, he decided against challenging what could have been the nation's first woman president.
His reservations about running were all but cemented on May 30, 2015, when his son Beau Biden lost his battle with brain cancer.
Biden has run for president twice before. The first time was in 1987, when the then-Delaware senator's campaign was quickly derailed by a speech plagiarism scandal.
His second run in 2008 failed to gain traction during the Democratic primary. 
He placed fifth in the Iowa Caucus that year and sixth in the New Hampshire Primary before ultimately ending his campaign. Then-Democratic party nominee Obama chose Biden as his running mate in August 2008.
Despite his reservations about running again, Biden emphasized during his speech Thursday that the country needs to get its head out of the fog of Trump's presidency.
"Let's wake up!" Biden said. "This is America. We all walk around like, 'Oh my God. What are we going to do?' C'mon man!"