'Unbreakable Kimmy Schmidt' season 3 soundtrack: Every song performed by Titus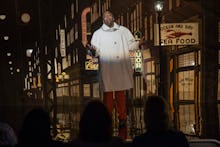 Season three of Unbreakable Kimmy Schmidt is out, and it looks like the showrunners have heard our desperate calls for more Titus. The new season, now available on Netflix, features not one but four musical interludes — including three Lemonade parodies. 
Read on to find out where you need to fast forward to ASAP. (The other stuff is cool too, but it can wait.)
Episode two — "Kimmy's Roommate Lemonades!"
"Furiosity"
Thankfully we don't have to wait long before the Force of Nature That Is Titus Andromedon dazzles us with his stellar Beyoncé impression. In full Bey mode, complete with an underwater intro and a tremendous yellow dress, Titus performs a faithful, detailed, hilarious re-creation of Lemonade's "Hold Up" video. Yes, it ends with Titus smashing a car. Yes, the lyrics are phenomenal. Yes, Titus thinks Mikey cheated on him. (Eep!)
"Whatevers"
Titus doesn't get far in this short parody of the spoken-word intro to "Sorry," but it's still wonderful. Here are the lyrics:
"What will you say at my funeral, now that you've killed me? Here lies Titus, stepmother to my lizards, both living and dead? His heaven will be a grand piano full of baked potatoes. Ashes to ashes, dust to... jerfs. I don't curr. I don't curr! Why should I curr? Guido, nah.
"All Night"
Of course, Titus can't parody "All Night" without wandering through neck-length grass, Bey-like, with a loudly patterned dress. Although this number is actually heartbreaking, it does allow us to revel in the beautiful and hilarious line: "Broke my wings so you could fly, baby gay bird, I said goodbye."
Episode four — "Kimmy Goes to College!"
"California"
In an episode full of Titus singing heterotastic jingles as a Task Rabbit for a weirdo conspiracy theorist, "California" stands out as an actual showstopper about some very Titus-y things such as boozy hot women. A loving and amusing tribute to the West Coast, "California" may give Titus's "Hold Up" video some major competition in the Internet virality department.  
Mic has ongoing Unbreakable Kimmy Schmidt coverage. Please follow our main Unbreakable Kimmy Schmidt hub here.