These white cooks bragged about bringing back recipes from Mexico to start a business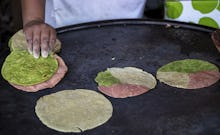 There's a long simmering conversation in the food world about cultural appropriation — about who's allowed to cook what, and why — but it's usually a tad more subtle than what Kali Wilgus and Liz "LC" Connelly confessed to Willamette Week in Portland, Oregon.
Wilgus and Connelly were profiled by Willamette Week about the delicious handmade tortillas they sell out of a food truck called Kooks Burritos on Cesar Chavez Boulevard in Portland. The duo said they learned their craft from women in Puerto Nuevo, Mexico.
"I picked the brains of every tortilla lady there in the worst broken Spanish ever, and they showed me a little of what they did," Connelly told Willamette Week. "They told us the basic ingredients, and we saw them moving and stretching the dough similar to how pizza makers do before rolling it out with rolling pins. They wouldn't tell us too much about technique, but we were peeking into the windows of every kitchen, totally fascinated by how easy they made it look. We learned quickly it isn't quite that easy."
The problem, of course, is that it's unclear whether the Mexican women who handed over their recipes ever got anything in return. And now those same recipes are being sold as a delicacy in Portland. 
"On the drive back up to Oregon, we were still completely drooling over how good [the tortillas] were, and we decided we had to have something similar in Portland," Connelly said to Willamette Week. "The day after we returned, I hit the Mexican market and bought ingredients and started testing it out. Every day I started making tortillas before and after work, trying to figure out the process, timing, refrigeration and how all of that works."
Not surprisingly, the discussion has gotten pretty heated in the comments section of the Willamette Week. "Nice appropriation," one person wrote. "You go to a place once and your first thought is to steal from and mock the people from there. This is gross, and the fact that you got media attention is even more cringey. But like, oh my God Becky, you like... TOTALLY spoke the most broken Spanish ever!"
Another added, "Everyone goes to Mexico to find 'get rich quick' ideas."
But the women also have their supporters, who note that they shouldn't be chastised for starting a business in a way that's common in the foodie world. "Are you all suggesting that Andy Ricker close Pok Pok? Should John Gorham close Toro Bravo? ... If learning how to make a food from another culture and selling it is now considered cultural appropriation, then why not take this issue up with the successful PDX businesses that have been doing this at a much larger scale for years, and stop harassing these two women struggling to start a small business."
In less than six months, Wilgus and Connelly have managed to build a business. And, depending on how you look at it, their methods are either genius or the latest example of white folks profiting off the labor of people of color.
Editor's note: We changed the headline of this article to better reflect the overall tone of the piece.