Police officers are learning how to be less racist by using some pretty racist images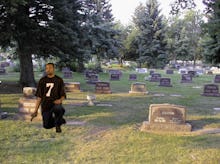 Diversity trainings are all the rage in police departments these days. But if you're wondering if there's anything of substance to them, then you're probably right.
Fusion's Molly Osberg dug through some Powerpoint presentations used by police departments in their efforts to be less racist — and found a trove of ridiculously racist images that seemed to be presented without even a hint of irony.
Here's one image that attempts to define the word "diversity," but mysteriously puts the word "races" in quotes because? Well, we don't know!
And then there's this photoshopped image, where a black man is shown wearing a Michael Vick Atlanta Falcons jersey, holding a gun, kneeling in a cemetery, right over someone's dead body. (He also looks like he's floating in mid-air.)
But, to be fair, here's a white guy in a similar pose but seemingly not at a cemetery. At least he's not over someone's corpse?
There is undoubtedly plenty of racial bias in policing, but if there's any hope of addressing it, these presentations aren't the way to go. Read more at Fusion.