New Orleans mayor: It's not just about the Confederate statues, it's about our attitudes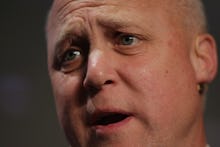 New Orleans Mayor Mitch Landrieu on Friday marked the removal of the fourth and final Confederate monument by calling on city residents, and the nation as a whole, to get serious about confronting white supremacy and racism.
Landrieu, who has supported the removal of four New Orleans statues amid a national effort to banish symbols such as the Confederate battle flag from public property, blasted so-called protectors of southern heritage who vehemently opposed the move. The opponents need to see the monuments for what they are: a fictional, sanitized view of American history, the mayor said.
"To literally put the confederacy on a pedestal in our most prominent places of honor is an inaccurate recitation of our full past, it is an affront to our present, and it is a bad prescription for our future," Landrieu said in a speech he delivered as crews worked to remove a towering statue of Gen. Robert E. Lee.
"Surely we are far enough removed from this dark time to acknowledge that the cause of the Confederacy was wrong," Landrieu, who is white, said in the speech. "And in the second decade of the 21st century, asking African-Americans — or anyone else — to drive by property that they own; occupied by reverential statues of men who fought to destroy the country and deny that person's humanity seems perverse and absurd."
Just before dawn on April 24, a construction crew removed the first of four Confederate monuments in New Orleans. The city's majority-black City Council voted 6-1 in 2015 to approve the demolition of statues honoring Lee and Confederate Gen. PGT Beauregard, Jefferson Davis, the president of the former Confederate States of America, as well as a Battle of Liberty Place monument.
Campaigns against Confederate symbols are not new. They gained new momentum in June 2015, when Dylann Roof, a professed white supremacist who idolized the Confederacy's racist legacy, murdered nine black churchgoers at Mother Emanuel AME Church in Charleston, South Carolina. After Roof's capture, state lawmakers voted to move the Confederate battle flag that once flew on statehouse grounds to a museum.
Meanwhile, New Orleans' monument removal became bogged down in litigation, and the city struggled to find contractors brave enough to risk backlash to move its statues. The debate  over removing the landmarks alone reportedly drew death threats for city officials and supporters. Workers who eventually removed the monuments wore bulletproof body armor and face masks, as a precaution.
The benefits of removing the literal and figurative shadows the monuments cast over the city outweighed the political and physical threats, Landrieu said.
"[A] friend asked me to consider these four monuments from the perspective of an African-American mother or father trying to explain to their fifth grade daughter who Robert E. Lee is and why he stands atop of our beautiful city," Landrieu said in the speech. "Do these monuments help her see a future with limitless potential? Have you ever thought that if her potential is limited, yours and mine are too?"
A local activist collective supporting the monuments' removal, Take Em Down NOLA, has said the work of challenging white supremacy and racism is much broader than even Landrieu lets on. Taking down the statues "is a necessary part of the struggle for economic and social justice," the activists said in a statement on May 8. "[Confederate] symbols are more about racism today, mass incarceration, poverty, unemployment, gentrification and low wages than past 'lost causes.'"
In his speech on Friday, Landrieu seemed to acknowledge there was more work to be done. "We need to change. And we need to change now. No more waiting," he said. "This is not just about statues, this is about our attitudes and behavior as well. If we take these statues down and don't change to become a more open and inclusive society, this would have all been in vain."