Donald Trump poll numbers somehow are even worse today than yesterday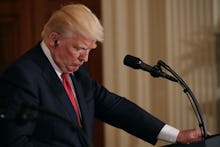 Donald Trump's approval rating has officially hit its lowest level since his inauguration, according to Reuters. 
If you think you've read that sentence before that's because you have, and many times, right here on Mic. In fact, just two days ago, we reported on a Politico/Morning Consult poll that showed Trump's approval rating hovering around 42%. But on Friday, Reuters released its own poll in partnership with Ipsos that showed the president's approval rating was actually much lower, this time at just 38%.
The Reuters/Ipsos poll, which was conducted online across the United States and gathered 1,971 responses, found that Trump's approval rating plummeted thanks to members of his own party. According to Reuters, 23% of Republicans polled said they do not approve of Trump's work so far as president of the United States, up from 16% in the same poll conducted just last week.
As Reuters noted, the dip in approval over the last week may be largely due to the mounting number of scandals the president is currently facing. 
On Monday, Mic reported on how Trump shared "highly classified information" with Russian Foreign Minister Sergey Lavrov and Ambassador Sergey Kislyak during a White House meeting. The president's trying week continued on Wednesday when it was revealed that former FBI Director James Comey had allegedly written several memos detailing his concern over Trump and his administration's ties to Russia. And on Friday, hours before he was scheduled to depart on his first foreign trip as president, it was reported that Trump told Russian officials in the Oval Office, "I just fired the head of the FBI. He was crazy, a real nut job." He continued, according to the New York Times: "I faced great pressure because of Russia. That's taken off." While Trump's "nut job" comments didn't effect this week's Reuters poll, it will likely show up in the results of next week's numbers. 
Trump, of course, denies any wrongdoing for each of the allegations above. On Thursday, the commander-in-chief even took to Twitter to call the Russia investigation the "single greatest witch hunt" in American history.