Former FBI director James Comey will testify in an open Senate session, after Memorial Day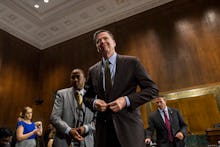 James Comey, the former FBI director who President Donald Trump fired in spectacularly chaotic fashion on May 9, will take an opportunity to tell his side of the story In an open hearing, leaders of the Senate Select Committee on Intelligence announced of Friday.
The hearing will be scheduled after Memorial Day, Senators Richard Burr (R-N.C.) and Mark Warner (D-Va.), chairman and vice chairman of the committee, said in a joint statement. Comey will testify amidst concerns his view may impact the newly appointed special counselor's investigation into alleged Trump-Russia ties.
"The committee looks forward to receiving testimony from the former director on his role in the development of the Intelligence Community Assessment on Russian interference in the 2016 U.S. elections, and I am hopeful that he will clarify for the American people recent events that have been broadly reported in the media," Burr said in the statement.
Warner said he hoped Comey would answer questions swirling around his sudden dismissal.
Comey reportedly turned down an invitation to testify before the Senate Judiciary Committee, a move that left the committee's leaders "extremely disappointed" on Friday. 
"There is no reason he can't testify before both the intelligence and judiciary committees, particularly given that the Judiciary Committee is the FBI's primary oversight committee with broad jurisdiction over federal law enforcement," Senators Chuck Grassley (R-Iowa) and Dianne Feinstein (D-Calif.), judiciary committee leaders, said in a statement.
Wherever Comey testifies, Americans deserve to hear what he has to say, Warner said. "Director Comey served his country with honor for many years, and he deserves an opportunity to tell his story," he said in the statement.