Trump is expected to tell Muslims that extremism is their problem to solve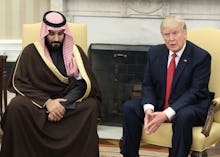 The onus is on the Muslim world to root out violent extremism and thwart terrorism around the globe, President Donald Trump is expected say in a speech in Saudi Arabia on Sunday. During his first visit to the Middle East, and his first foreign trip as commander-in-chief, Trump will call for global unity in the "battle between good and evil," according to a draft of his speech obtained by the Associated Press.
It's up to Arab leaders to "drive out the terrorists from your places of worship," Trump is expected to say during a summit of Muslim leaders who may be weary of his anti-Muslim rhetoric as a presidential candidate. Versions of the speech, which reportedly include condemnations of Iran, and of Syrian dictator Bashar al-Assad and his "unspeakable crimes against humanity," urges peace and stability in the region.
"We are not here to lecture — to tell other peoples how to live, what to do or who to be," the speech draft reads, according to the the AP. "We are here instead to offer partnership in building a better future for us all."
The draft doesn't mention "radical Islamic terrorism," a favorite refrain of candidate Trump and his supporters while he was out on the stump. Instead, Trump is expected to characterize terrorism as a global problem for lovers of peace.
"This is not a battle between different faiths, different sects or different civilizations," the speech draft reads. "This is a battle between those who seek to obliterate human life and those who seek to protect it. This is a battle between good and evil."
It's unclear if Trump will attempt to make amends or even mention his court-blocked executive orders banning immigrants from Iraq, Iran, Syria, Sudan, Libya, Somalia and Yemen — all Muslim-majority nations — from traveling to the United States. The orders made good on Trump's promise to ban Muslims from the country temporarily, or at least "until our country's representatives can figure out what the hell is going on."
Trump's visit to Riyadh is the first stop in his overseas trip. He is also scheduled to visit Israel, the Vatican, Belgium and Italy, the AP reported.