Betty Shelby will return to work five days after her acquittal in Terence Crutcher's death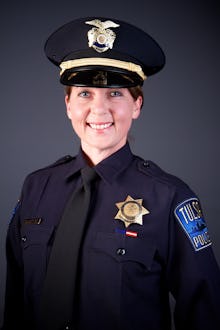 In America, you can be acquitted of manslaughter for fatally shooting an unarmed black man one week, and the next week you can return to duty.
That seems to be the story of Betty Jo Shelby, the Tulsa, Oklahoma, police officer found not guilty Wednesday of first-degree manslaughter in the September shooting death of Terence Crutcher. Shelby plans to return to work on Monday, the Associated Press reported.
Shelby's defense attorney, Shannon McMurray, announced her client's return to the Tulsa Police Department after the chief cleared Shelby. She won't be allowed on street patrol, McMurray said.
A Tulsa jury disagreed with prosecutors that Shelby used an unreasonable amount of force against Crutcher on Sept. 16, when she encountered him and his stalled vehicle on a city street. Crutcher is seen in police video footage walking away from officers with his hands in the air, before Shelby shot him in the chest.
The Tulsa officer told jurors she fired at Crutcher out of fear for her life. She thought Crutcher was reaching into his SUV for a gun. No weapon was recovered from his vehicle.
Shelby, who had been on unpaid leave while she faced trial, is among officers who faced legal troubles following an officer involved death and were later allowed to return to work. The officers charged, acquitted or cleared of wrongdoing in the April 2015 death of Freddie Gray in Baltimore have reportedly returned to work. Daniel Pantaleo, the New York City officer who was not indicted for holding Eric Garner in a fatal chokehold in 2014, was reportedly paid six figures in overtime wages while on modified desk duty.