Draft of Trump's Saudi Arabia speech does not include phrase "radical Islamic terrorism"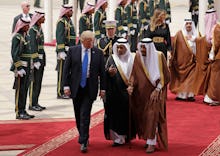 President Donald Trump made a point of criticizing his opponent, Hillary Clinton, and his predecessor, Barack Obama, because he said they wouldn't use the words "radical Islamic terrorism."
But will he use the phrase himself during his speech in Saudi Arabia, which is part of his first trip abroad as president?
Doesn't seem like it, based on a draft of the speech obtained by the Associated Press. 
The phrase does not appear in two versions of the document acquired by the AP, and the speech stays away from the anti-Islam rhetoric that dominated Trump's campaign.
"This is not a battle between different faiths, different sects or different civilizations. This is a battle between those who seek to obliterate human life and those who seek to protect it," the text reads. "This is a battle between good and evil."
The address would mark a stark contrast in substance and tone for a president who has proposed two Muslim bans and once said, "I think Islam hates us."
"We will ... unite the civilized world against radical Islamic terrorism, which we will eradicate completely from the face of the Earth," Trump said in his fiery inauguration address. 
Trump is no stranger to backing off his harsh rhetoric while in the company of those he's directed it at.
Last August, he met with Mexican President Enrique Peña Nieto in Mexico City, but "didn't discuss payment of the wall" — despite the fact that he'd spent his whole campaign talking tough about building a beautiful wall and sending Mexico the bill.
Trump also spent much of his campaign criticizing China, which he said the United States was letting get away with "rape." But after meeting with Chinese President Xi Jinping for some cake and camaraderie, the strong words gave way to what Trump called a "friendship."
Trump was warmly received upon arriving in Saudi Arabia Saturday, and some suggested it was an opportunity for the president to improve his image with Muslims abroad and at home. 
"We are not here to lecture — to tell other peoples how to live, what to do or who to be. We are here instead to offer partnership in building a better future for us all," according to the draft of the speech.
The White House confirmed to the AP that the drafts are authentic. But White House press secretary Sean Spicer said Trump has yet to see the version of the speech acquired by the AP and "is writing a final version."