This gorgeous 'Bloodborne' statue from Prime 1 costs $800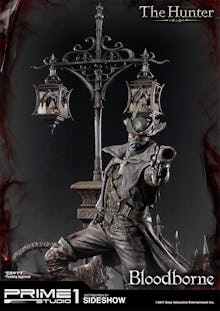 Bloodborne is a vastly popular game that's attracted the folks who loved everything about the Dark Souls series. It features several grotesque and bizarre creatures, as well as the weird and wonderful protagonist and playable character known as the Hunter. There's a new Hunter-based statue on the way, and it'll set you back a pretty penny — $800, to be exact. 
You're getting what you pay for concerning quality, however. The statue stands about 32 inches tall and is based on the Hunter from Bloodborne's DLC expansion pack known as "The Old Hunters." 
The character is typically clad in a black hat, gray coat, brown leather boots,  black gauntlets with golden ornaments and a bandana that covers his face. You can customize his appearance in-game, but this is the statue's default look. The figure also comes with an interchangeable street lamp and pillar, as well as an interchangeable right hand holding the Saw Cleaver and another gripping the Hunter Axe. A third weapon is available with the statue's exclusive version: the Threaded Cane.
This isn''t a run-of-the-mill statue that just happens to cost $800, either. Only 2,000 of the regular edition, available at BigBadToyStore, will be released; Sideshow Collectibles will have just 1,250 of the limited-edition version for sale. These are the companies you want to go to when you like certain characters, like this equally expensive Geralt of Rivia statue from The Witcher 3 fame.
If you really want a Hunter statue of your very own, you probably don't have to pony up $800 to get one. Previously, much more affordable releases have been available. And if Hunter's not your favorite, check out Prime 1's upcoming $600 Lady Maria figure — coming in 2018 — for something a little different.
More gaming news and updates
Check out the latest from Mic, including our list of video games that made fun of their players, a personal essay about dealing with anxiety through Breath of the Wild, a look at the racist and sexist experiences in eSports and a plea for better character customization options for black characters.