Who is Richard Oakes? Google Doodle celebrates Native American activist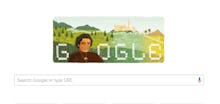 Google honored the legacy of Native American civil rights leader Richard Oakes on Monday, featuring his animated likeness in its Google Doodle.
Oakes, born 75 years ago on May 22, was an instrumental figure in American civil rights history.
"Throughout the 1960s and '70s, Richard Oakes made a stand for the rights of American Indians," Google wrote about Oakes on its homepage. "Over his time as an activist, he fought peacefully for freedom, justice and the right of American Indians to have control over their lands."
Oakes was a member of the Mohawk Indian tribe and grew up on its Akwesasne reservation based in New York's Franklin County. He moved to San Francisco at the age of 18 and later led the "longest occupation of a federal facility by Indian people," according to the National Park Service.
Occupy Alcatraz
On Nov. 4, 1969, Oakes led a group of about 100 Indian students in California to temporarily take over the federally controlled abandoned facility on Alcatraz Island in San Francisco Bay.
Their occupation, which lasted more than 18 months, demanded ownership of the Alcatraz compound be restored to the "Indians of All Tribes" group and its followers. It inspired similar reclamation efforts by other Native tribes, including a 1970 effort by the Pit River Indians of Northern California.
The occupation of Alcatraz may have even been a precursor for Occupy Wall Street and today's protests at Standing Rock in North Dakota.
On June 10, 1971, federal agents and special forces troops raided Alcatraz after months of appeasement and capitulation by then-president Richard Nixon. They forcibly removed several demonstrators and ultimately ended the occupation.
During the protest, the federal government ceded more than 48,000 acres of land to native tribes as well as funding and support for the tribal college known as D-Q University.
The school, named after the Iroquois nation founder Deganawida and the Aztec prophet Quetzalcoatl, lost its accreditation in 2005.
Oakes' death
In 1972, Oakes was fatally shot by a white YMCA camp manager named Michael Morgan after trying to intervene when Morgan was harshly disciplining a native child. Morgan claimed self-defense and was acquitted of manslaughter charges.
Google's banner illustrates locations that were important in Oakes' life, including his Akwesasne reservation home and the aforementioned Alcatraz Island.
"Here's to Richard Oakes, for his unwavering dedication to his community and social justice," Google wrote.