Sasheer Zamata quit 'SNL,' proving TV's race and gender problems are more systemic than ever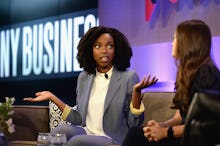 It was big news in 2014 when Sasheer Zamata joined Saturday Night Live and became the show's first black female cast member since Maya Rudolph's departure seven years earlier. But it's even bigger news that Zamata, only 31, is now leaving the show after just four seasons.
Variety was first to report the news on Sunday. The Huffington Post described Zamata's exit as part of an "exodus" of the show's top talent. Cast members Bobby Moynihan and Vanessa Bayer are also leaving, fans learned before this weekend's season finale. Here's Zamata's goodbye to viewers, which she posted on Instagram over the weekend.
Before she joined, black male cast members like Jay Pharoah or Kenan Thompson did impersonations of black women on the show, roles that they both eventually shunned openly. Once she joined the cast, Zamata churned out crowd-pleasing impersonations of Taraji P. Henson, Nicki Minaj, Rihanna, Lupita Nyong'o and Michelle Obama. As a black woman, Zamata's casting was supposed to fill a gaping hole in the show's cast. But her short stint on SNL is a clear example, perhaps more than any other, that there are no so-called "quick fixes" to the problem of racial and gender inequity on television.
The reason for Zamata's departure still isn't clear, and when contacted by Mic, her management agency declined to offer a statement. But in the absence of any official narrative, it makes sense to draw a direct line between her leaving the show and Jay Pharoah's firing from the show last summer. In an interview with New York City radio's Hot 97's "Ebro in the Morning" in April, Pharaoh said the following: "You go where you're appreciated... if you have multiple people on the cast saying things like, 'You're so talented, and you're able, and they don't use you, it's unfair, and it's making us feel bad... because they don't use you... and you're a talent...'" 
More to the point, Pharoah said that he rattled his bosses back in 2013, when he publicly spoke out about the show's lack of black women as cast members and writers. "When I said what I said, and it got on the Grio and it went viral, I almost freaking lost my job," he told Hot 97.
In the interview with the Grio, Pharaoh said that the show should hire Darmirra Brunson, a black female actress, "because she's black, first of all, and she's really talented." 
(His one-time cast mate, Thompson, took the less classy route of blaming black women for their own non-existence on the show. "It's just a tough part of the business," Thompson said in an interview with TV Guide. "Like in auditions, they just never find ones that are ready.")
But in 2013, Pharaoh made a point of noting that he was one of only two black actors among 16 cast members, a makeup that he insinuated left the show ill-equipped to take on culture's biggest moments. Remember, at the time, Barack Obama had just been re-elected president, Michelle Obama's popularity was at an all-time high, and black women like Oprah, Beyoncé, Ava DuVernay and Serena Williams were shaping pop culture.
Outrage ensued following Thompson's comments, but much of it focused squarely on the show's obvious failings. Whoopi Goldberg spoke out. "These folks are 15 years late on this question," Goldberg, one of the world's most famous black comedians, told Showbiz411, according to the Los Angeles Times. "Saturday Night Live has looked like this for 15, 16 years. I don't understand. Why is everyone up in arms? Didn't anybody see it before? Clearly not." 
The process to get Zamata on the show also reveals that while America has its most diverse TV-watching audience ever, the shows we're watching are sluggish to adapt to our country's changing demographics. In a Hollywood diversity report compiled by UCLA's Bunche Center for African-American Studies that looked at the 2014-2015 television season (the last season for which substantive data was available), only 11% of lead broadcast roles went to people of color, and 38% went to women. The new crop of scripted broadcast shows for 2017-2018 threatens to be even worse. Variety examined all of the upcoming shows ordered by the five big networks and found that only 20% of those shows have lead actors that are people of color, and only 35% are women. All this despite the fact that women and people of color watch TV more often than white men.
The show even made fun of its own lack of diversity amid the uproar in an episode that was guest hosted by Kerry Washington at the dawn of her fame on Scandal. During the first skit of the show, the producers included a voiceover and this scrolling text: 
"The producers at SNL would like to apologize to Kerry Washington for the number of black women she will be asked to play tonight. We made these requests both because Ms. Washington is an actress of considerable range and talent and also because SNL does not currently have a black woman in the cast. As for the latter, we agree that this is not an ideal situation and look forward to rectifying it in the near future unless, of course, we fall in love with another white guy first."
Washington then pokes fun at the show's lack of diversity, alternately scurrying off set to impersonate both Michelle Obama and Oprah.
And the show's brass responded. Lorne Michaels, SNL's executive producer, staged showcases in Los Angeles, Chicago and New York to identify talented black female comedians and hire one within weeks. "It's not like it's not a priority for us," Michaels told the Associated Press November 2013. "It will happen. I'm sure it will happen."
And it did — within weeks, SNL hired Zamata. Leslie Jones, a seasoned and well-respected comedian, also joined the show's ranks. Another black female writer, LaKendra Tookes, also joined the writers team. Jones lit the internet on fire with an infamously terrible slavery sketch, but both she and Zamata became consistent fixtures and added depth and nuance that seemed in touch with the times. 
But even that move was criticized by some observers. Among them was Andrew Wallenstein, the co-editor-in-chief of Variety, who wrote that Zamata's hiring and the hoopla that came with it — the criticism, the showcases — "made a spectacle of its diversity efforts." He added, "It wasn't just that SNL wanted to right a wrong; it wanted to be seen as righting a wrong."
But for some, it was clear that the show wasn't making good use of her talents. In May 2016, Larry Getlen of the Decider, an entertainment site that's run by the company that owns the New York Post, wrote that Zamata's tenure had been a disappointment. 
"What [Zamata] has not shown is that she can create memorable characters — original or impersonated — or battle through the morass of SNL's voluminous cast to make any sort of distinguishing mark." In March, Omar Gallaga of Previously TV wrote that she was "criminally underused on the show except as a foil for white characters acting racist."
And maybe some of the reason for that criminal underuse was the fact that those original 2014 hires were done to quell outrage — and Pharoah — instead of out of a genuine desire to add the perspective and talent that these black women offered. 
At one point during the Hot 97 interview, co-host Peter Rosenberg asks Pharoah directly if he was "the catalyst behind that whole conversation"?
"Yes," Pharoah responds. "I'm the reason it happened."
Whoever's responsible for making Zamata's hire happen, it's a move that clearly didn't stick. But instead of a bandaid, SNL might want to consider an overhaul, one that's geared directly at the diverse audience that's tuning in every week to watch.