This is the highest and lowest paying job in your state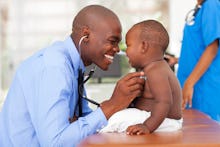 As robots take jobs across the United States, workers may feel safest specializing in human-to-human service skills — from providing medical care to washing hair — that are harder to automate. But alas, the trend toward automation has actually exacerbated wealth inequality across the country, and that divide shows in how such service work is compensated, as cost data website HowMuch.net reports in a new post.
The report illustrates the wide disparity of incomes for those living across the U.S., from those earning top dollar in their profession to those making the least. In all five states with the lowest annual wages by profession, one year's pay would fall below the federal poverty line of $20,420 for a family of three. Meanwhile the wealthiest U.S. workers earn more than 10 times that.
Using May 2016 data from the State Occupational Employment and Wage Estimates Report by the Bureau of Labor Statistics, HowMuch.net sorted occupations by pay to determine which professions commanded the highest and lowest annual mean wage in the 50 states. Here are the findings.
Lowest-paying professions by state
Low-paying professions vary by state, from shampooers, gaming dealers and hosts to bartender helpers, fast food workers and barbers making the least amount of money in the U.S.
The Carolinas appear to pay the least amount of money to workers on the lower end, and lowest-paid employees living on the coasts tend to be in food preparation. Here are the five lowest wages by state and job:
Shampooers: South Carolina - $17,190 per year
When Forbes examined data from 2015, similar conclusions were drawn — with the worst paying job listed as fast food cook, followed by food preparation/serving worker and shampooer.
Top-paying professions by state
Not surprising, healthcare professionals made top dollar in every state, with a mix of surgeons, anesthesiologists and orthodontists sprinkled throughout the country. Perhaps more surprisingly, broken down by state, doctors in the middle of the country logged the highest average pay within their specialities.
Anesthesiologist: Kansas - $287,410 per year
Being a specialist is also key to making more money as Medscape's 2016 Physician Compensation Report showed the top paid docs were orthopedists, cardiologists, dermatologists, gastroenterologists and radiologists.
What conclusions can be drawn from the HowMuch report? Obviously medical school pays off, even if you aren't living in a large, metropolitan city. Both demand and the price of healthcare services is most likely the reason why medical professionals continue to be paid top dollar, HowMuch concludes.
Want to make more money without becoming a doctor? Learn more about the top-paying jobs in the United States here.
Sign up for The Payoff — your weekly crash course on how to live your best financial life. Additionally, for all your burning money questions, check out Mic's credit, savings, career, investing and health care hubs for more information — that pays off.