Herndon Monument Climb: Naval Academy obelisk tradition goes viral on Facebook Live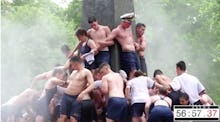 A Washington Post Facebook Live video went viral Monday, with hundreds of thousands of Facebooks users tuning in to watch Naval Academy students climb a greasy obelisk.
The video featured first-year Naval Academy students, or "plebes," forming a human pyramid in an attempt to place a naval academy hat at the top of an obelisk. 
Confused? Believe it or not, it's a Naval Academy tradition.
It's called the Herndon Monument climb. 
The tradition marks the end of freshman year at the U.S. Naval Academy, signaling the transition of the latest class from "plebes" to upperclassmen, according to the Naval Academy's website.
Working shoeless, the plebes are required to climb the obelisk, remove a cup from the peak of the the 21-foot monument and replace it with a cadette hat.
The first recorded Herndon Monument Climb was in 1962 and took 12 minutes. The difficulty was increased in subsequent years, as cadettes began greasing the monument with lard and spraying participating plebes with hoses as they climb.
The fastest recorded time was by the class of 1972: 1 minute 30 seconds with no grease.
The longest was the class of 1998: 4 hours, 5 minutes and 17 seconds.