Kiese Laymon to Students: "Our generation has not given you a healthy model of honest reckoning"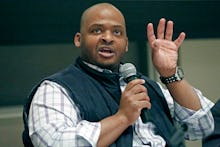 I'd like to thank the Mississippi School of the Arts for having me. I didn't go to my own high school graduation 25 years ago from St. Joseph High School in Jackson, Mississippi. I told my Mama that I decided against going because the graduation speaker was the reactionary Republican governor of Mississippi, Kirk Fordice. That was partially true. The whole truth was that I felt a trunk-load of shame for graduating five places from the bottom of my class when I easily could have been in the top five if I would have applied myself. I won a few awards for writing in high school, and did well enough on the ACT to get into Millsaps, but my GPA was shameful. I'm talking about shame-full. Full of shame. All my friends and family patted me on my back for making a principled decision, except my Mama.
Mama knew.
I'm not here today to give you any dynamic advice. I am here to beg you to love your family, love yourself and love this state by making honest, compassionate decisions in every part of your life, especially when you fail. Whether we're talking about the president of this country, the current reactionary Republican governor of our state or me, I'm not sure we grown folks have given you a healthy model of honesty and compassion. Grown folks, particularly grown men, are really good at justifying horrible, dishonest decisions. We're really good at bragging about how we don't regret anything. I'm here today to tell you that human beings who aren't good at honesty or compassion aren't really good at being human. And those are not the kind of human being you want to become or emulate.
When I was 11 years old, my mama used some of the money she won at a casino to buy me an extra tennis racket. The first time we played was at Callaway High School in Jackson. We were volleying when the explosive sound of a single M-80 shook us. We looked toward the school and saw a squat pot-bellied woman in a Saints Starter jacket on one knee, wiping the blood from her nose in front of a tall slender man in a thick red and black lumberjack.
"Put your hands down," I heard the man say. "Put your gotdamn hands down."
The woman in the Starter jacket slowly dropped her hands and the man hit her in the face with what sounded like a damp closed fist. She fell to the ground and covered her face again.
Without saying a word, we cocked our rackets and sprinted toward the couple. "You better not hit her again," Mama screamed as the man pulled the woman up. "You better not hit her again." When the man saw us coming after him, he dragged the woman off through this dirt path.
On the other side of the building, the man, and the woman in the Starter jacket whose face he exploded, got in a raggedy black Mazda and sped off. We didn't call the police. We didn't run back to our Nova and try to follow them. We caught our breath and prayed like Grandmama taught us.
I had no idea what we were praying for that day. I assumed we were praying for the safety of the woman in the Starter jacket. Maybe we were praying for our forgiveness. I knew that we would have tried to kill that man if we could touch him. 
Mama just knelt there on her knees. I kept asking her why she was crying. She wouldn't say. There were memories in Mama's eyes that day that she was afraid of telling me.
I realized that day that I was of my mama. I was her child.
Mama and I had the same thick thighs, the same short arms, the same full cheeks, the same mushy insides, the same minced imagination. We were excellent at laughing until we weren't laughing, excellent at working until our bodies gave out and most excellent at allowing shame to mangle our relationships to honesty. Our heart meat was thick, but once punctured, we ran our hearts into fire and waltzed our hearts into war whether we had a plan of escape or not. No matter how terrified we were, we never asked anyone for help. We just actively resented everyone who watched us suffer.
As a child, I remember crying myself to sleep imagining a life where we weren't together. I remember believing all my mama's lies were mistakes, and forgetting those mistakes when we went to sleep tucked into each other every night. Every time she said that my particular kind of hardheadedness and white folks' Mississippi-particular kind of penchant for black suffering were recipes for an early death or incarceration in Mississippi, I believed her. I was confused, though, about the way she'd grit her teeth when she hit me as hard as you could. Days, and sometimes hours earlier, she touched me gently. She told me she loved me. She called me her best friend. She made me feel like the most beautiful boy in Mississippi.
"I didn't try to hurt you," Mama said the last time we spoke. "I don't remember hurting you as much as you remember it, Kie. I'm not saying it didn't happen. I'm just saying that I don't remember everything the way you do."
I still believe her.
Mama and I had never been a family of cabinets filled with Band-Aids, a family of consistent bill money, a family of pantries, full fridges, washers and dryers. We had always been a strange black southern family of books. The presence of all those books, and her insistence that I read and write in those books, made it so I would never be intimidated or easily impressed by white space, words, punctuation, sentences, paragraphs, chapters. Mama gave me a black southern space from which to work with literature. In that black southern space, I learned to expect more from the page than I was given. Mama taught me how to revise and reread. Mama modeled a rugged love of black children. Mama taught me that our liberation has its bedrock in compassion and direct action, not politeness. Mama gave me home-training. I now know revision, rereading, compassion, home-training and a love of black children are the greatest gifts a parent can share with a child in this nation. Those gifts are why I'm here 20 years later talking with y'all.
Those gifts are also why, 25 years ago, I should have walked across that stage for my mama. No matter how I performed academically in high school, I should have given her the opportunity to see her only son graduate. I eventually got kicked out of Millsaps and graduated from a school in Ohio called Oberlin College before going to graduate school at Indiana University. When I graduated from Oberlin, I invited Mama to watch me get my diploma. When I got offstage, I looked in her eyes and traced the new slump of her body. I saw creases under her eyes I'd never seen before. I saw that she needed a graduation ceremony for all she'd been through in the last four years just as much — and probably more — than I did.
This speech today is written to the graduates in the class of 2017, but it's also written to the mamas, fathers, cousins, aunties, uncles, grandparents, friends, guardians and teachers in the audience, who have — under death-drenched circumstance — done a magnificent job of staying alive these past four years, but who have possibly done a terrifying job of honestly talking to you about their failures. I'm here to tell you that your family supporting you here today needs you much more than they'll ever admit.
Lucille Clifton has this poem in a book I stole from my mama's bookshelf called "Why Some People Be Mad at Me Sometimes."
they ask me to remember
When I think of my relationship with my mama, I think of this poem, not because I feel Mama asked me to remember her memories, but because I think my mama feels like I'm trying to punish her by honestly remembering mine. I know what it's like to punish vulnerable people for holding onto memories I wish they'd forget. I'm just telling you that one way we might help each other is if we try to share our sad words, funny words, whole stories, half-relationships, empty mysteries and full memories we don't want to be true. Nothing in America encourages this kind of reckoning or liberating transformation so we have the interior lives, the policies and the president we currently have.
We do not have to be this way.
Suzanne introduced me as a southern writer from Jackson, Mississippi. I am a black southern writer from Jackson, Mississippi, and I am here begging you to dare everything you can to change our families, our state, and our nation, one word, one paragraph, one note, one painting, one relationship, one protest and, most importantly, one honest memory at time.
Start with your family, though. Start with today. Let honesty, compassion and curiosity guide you today in your relationships with your family. Welcome their failures, and don't lie about yours. Give yourself a chance to get better. Our generation has not given you a healthy model of honest reckoning. And in that way, we have failed you. Please do not fail us. We do not have to be this way. We can be honest. We can be compassionate. We can be regretful. We can confront abuses of power that target the most vulnerable people and groups in this state and this nation. That is what our state can be known for. At our best, it is what our state is known for. We just need you to remind us how it's done.