Police confirm fatalities after reported explosion at Ariana Grande concert in Manchester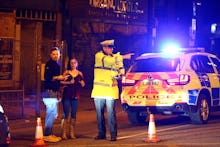 Late Monday evening, reports of a possible explosion at the Manchester Arena in Manchester, England, began to trickle out onto social media. Thousands of young people were crammed into the arena to watch Ariana Grande perform during her world tour. 
The Greater Manchester Police took to Twitter to share in an update with followers that emergency services are currently on scene and that there are a "number of confirmed fatalities" and other injuries. The police department is also advising the general public to stay away from the area.
"I and my sister, along with a lot of others were seeing Ariana Grande perform at Manchester Arena, and we were all exiting the venue when around 10:40, 10:45 p.m.-ish a huge bomb-like bang went off that hugely panicked everyone and we were all trying to flee the arena," concertgoer Majid Khan told the Telegraph. "It was one bang and essentially everyone from the other side of the arena where the bang was heard from suddenly came running towards us as they were trying to exit Trinity Way and that was blocked so everyone was just running to any exit they could find as quickly as they could." 
The source of the loud noise has yet to be explained, however, Suzy Mitchell, a woman living next to the arena, said her entire apartment was rocked by the alleged explosion. 
"The bang was so big I heard it from my room which is at the back of the apartment blocks," Mitchell told the Press Association.
Video from inside the arena has also emerged, showing the crowed in a sheer panic moments after the incident. 
A label rep for Grande told Variety that the singer is "okay" following the incident. 
Helen Pidd, a reporter for the Guardian, shared what she saw on scene with followers on social media including a number of "armed and masked" police officers on site.
Pidd additionally reported, "Group of lads from Sheffield say they heard a bang stage right, saw smoke coming from the @ManchesterArena entrance. Saw 5+ casualties."
"We were making our way out and when we were right by the door there was a massive explosion and everybody was screaming," Catherine Macfarlane, another concert attendee, told Reuters.
"It was a huge explosion — you could feel it in your chest. It was chaotic. Everybody was running and screaming and just trying to get out of the area."
For complete coverage follow Mic's live updates here.