Here's a timeline of deadly attacks in Europe since 2015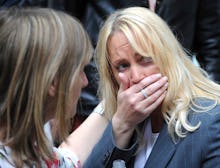 Monday's bombing in Manchester, England, is the latest in an ongoing string of attacks in Europe, many of which have fueled anti-Muslim sentiment throughout the continent for years. The Manchester attack, which so far has left 22 dead and dozens more injured, was claimed by the Islamic State group, which praised the act. 
Since 2015, there have been at least 10 deadly attacks in Europe.
Here's a rundown:
Charlie Hebdo attack in Paris — Jan. 7, 2015
Terrorists raided the controversial Charie Hebdo satirical magazine's headquarters in Paris, killing 12 people and injuring 11 more, according to the Washington Post. A day later the on-the-run gunman killed a police officer and wounded a city working during a traffic stop.
The following day, two of the suspected gunman, who were brothers, were killed by police. Police also raided a supermarket during a hostage standoff the same day — that incident led to the death of four hostages and the alleged gunman.
The Hebdo attack came days after the magazine published an issue with controversial novelist Michel Houellebecq on the cover. Houellebecq's then-new book, "Soumission," which depicted France being controlled by Muslims in 2022, was criticized as being Islamophobic.
The Hebdo magazine previously had been condemned repeatedly in the Muslim world for drawing political cartoons depicting the Prophet Muhammad, a grave sin that some Muslim extremists believe should be punishable by death.
Video later emerged showing one of the attackers, Amedy Coulibaly, had pledged his allegiance to the Islamic State (ISIS). Muslim groups and majority Muslim countries condemned the attacks in the following days.
Paris attack — Nov. 13, 2015
It's been called the deadliest attack on France since the Germans invaded during WWII.
At least 130 people were killed in three separate coordinated attacks by men who used assault rifles and bombs to wreak havoc and bloody carnage, according to BBC.
One group of terrorists fatally shot 89 people after storming Le Bataclan music hall where a rock concert was going on.
Members of the rock band Eagles of Death Metal appeared stunned and confused on stage as multiple gunshots rang out.
Another 41 people were killed in the other city attacks that night.
More than 100 bullets were fired by at least one attacker outside Le Petit Cambodge restaurant in the city's 10th district where 15 were killed and another 15 were severely injured, according to the BBC.
Another five people were fatally shot in front of the Cafe Bonne Biere and La Casa Nostra pizzeria.
The third suicide bomber blew himself up at a nearby fast food restaurant. Nine of the terrorists were killed either during the attacks or during subsequent police raids, according to BBC. Two were arrested.
Hollande called the attack an "act of war" organized by the Islamic State group.
Brussels, Belgium — March 22, 2016
At least 32 people were killed during three suicide bomb attacks in Brussels, two that occurred at the Zaventem international airport and a third that happened at a metro station.
ISIS claimed responsibility for the attack, saying it was retaliation for its role in the Syrian and Iraq wars, according to the Telegraph.
Nice, France — July 14, 2016
Eighty-six people were killed when a 31-year-old Tunisian man named Mohamed Lahouaiej-Bouhlel drove a cargo truck into a crowd of people at Promenade des Anglais on France's Bastille Day holiday.
ISIS claimed Lahouaiej-Bouhlel was inspired by its calls to target civilians, but BBC reported Lahouaiej-Bouhlel was an unreligious man with a history of violence and mental illness.
Munich, Germany — July 22, 2016
An 18-year-old German-Iranian gunman killed himself after fatally shooting nine people in the Olympia-Einkaufszentrum shopping plaza. The gunman reportedly shouted, "I am German," and, "I was bullied for seven years," during his killing spree. The BBC reported the young man suffered from depression and was obsessed with mass shootings. His former classmate told the Telegraph the shooter was bullied in school and had threatened to kill other students.
Berlin, Germany — Dec. 19, 2016
Twelve people were killed at a local Christmas market when a man drove a truck into a crowd of people. Authorities initially arrested the wrong man, but eventually identified the perpetrator as Anis Amri, who was believed to be linked with radical Islamists, including ISIS, according to CNN.
Amri was killed on Dec. 23, 2016 during a shootout in Milan, Italy.
Zurich, Switzerland — Dec. 19, 2016
A 24-year-old Swiss citizen of Ghanian descent was found dead after shooting and wounding three other people at an Islamic center frequented by Somali and Eritrean refugees, according to the New York Times. The man had no known links to terror groups, but was wanted for a previous fatal stabbing, the Times reported.
London — March 22, 2017
Terrorist Khalid Masood, 52, drove a car onto the pedestrian walkway of Westminster Bridge, killing four people and injuring about 50 before exiting the vehicle, running up to a city parliament building and fatally stabbing a law enforcement officer, according to BBC. The attacker then was shot dead by police.
He reportedly had no links to known terror groups, BBC reported.
Paris, France — April 20, 2017
An assault rifle-wielding gunman fatally shot one law enforcement officer and wounded two others on Champs-Élysées boulevard days before the first round of France's contentious presidential election. He later was shot dead by police.
No evidence has been found tying the gunman to ISIS, according to the Guardian.
Manchester, England — May 22, 2017
Authorities say a suicide bomber killed 22 people, including an 8-year-old girl, also injuring around another 59 on Monday, following an Ariana Grande concert at an arena in Manchester.
ISIS has claimed responsibility for the attack. Manchester police say they've arrested a 22-year-old man in connection with the attack, according to ABC News.