What happened in Manchester? Timeline of the Ariana Grande concert attack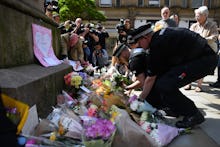 On Monday night, an explosive device went off at the end of an Ariana Grande concert in Manchester, England. So far, 22 people have been confirmed dead and 59 more are injured. Here's a timeline of the events so far. All times are Eastern.
5:54 p.m. Monday, May 22
Manchester police tweeted it was responding to "reports of an incident" at Manchester Arena, where Grande was performing, and urged pedestrians to stay away from the area.
6:29 p.m.
Manchester police confirmed there had been a "serious incident" at the arena, and that emergency vehicles were responding.
Around 6:30 p.m.
Eyewitness reports detailing multiple explosions began rolling in. One woman whom the Press Association reported lives across from Manchester Arena told the news agency she "just heard a huge bang from my bed, came out to the front of my apartments (we're on the top floor so have perfect view) and everyone was running away in big crowds. The bang was so big I heard it from my room which is at the back of the apartment blocks. Currently lots of emergency services going to and from. But can't see anything substantial as of yet except fleeing people and lots of cars," the Guardian reported.
On social media, concertgoers and eyewitnesses posted photos and videos of the aftermath.
6:47 p.m.
Manchester police issued a statement confirming fatalities and injuries.
8:09 p.m.
Police said the explosions were being treated as possible terror attacks, the Guardian reported.
8:10 p.m.
Manchester police announced 19 people died and "around 50 others" were injured. They also said the incident was being treated as terrorism.
8:58 p.m.
Officials began to weigh in on the tragedy. 
"My heart goes out to families who have lost loved ones, my admiration to our brave emergency services. A terrible night for our great city," Manchester Mayor Andy Burnham tweeted. 
"All our thoughts are with the victims and the families of those who have been affected," British Prime Minister Teresa May said in a statement. 
Campaigning for June's snap parliamentary elections was suspended.
10:21 p.m.
The U.S. Department of Homeland Security said it was "closely monitoring" the situation in Manchester and "working with our foreign counterparts to obtain additional information about the cause of the reported explosion." Further, it said the U.S. public "may experience increased security in and around public places and events."
10:46 p.m.
The number of reported injuries rose to 59.
10:51 p.m.
Grande responded to the attack on Twitter.
May 23, 2:59 a.m.
The number of reported deaths rose to 22, the Guardian reported.
3:15 a.m.
Manchester's top ranking police officer, Ian Hopkins, said in a statement that the lone attacker died in the explosion. He was carrying an improved explosive device, Hopkins said. Children were among those who died, he also said.
3:51 a.m.
The Islamic State group, also known as ISIS, claimed responsibility for the attack, the BBC reported.
5:18 a.m.
President Donald Trump offered his condolences. 
"I extend my deepest condolences to those so terribly injured in this terrorist attack and to the many killed and the families — so many families of the victims," he said in a statement. "We stand in absolute solidarity with the people of the United Kingdom. 
"So many young beautiful, innocent people living and enjoying their lives murdered by evil losers in life. I won't call them "monsters" because they would like that term. They would think that's a great name. I will call them, from now on, losers, because that's what they are. They are losers. And we will have more of them. But they are losers, just remember that."
6:53 a.m.
Manchester police announced it had arrested a 23-year-old man in connection with the attack.
7:53 a.m.
May said it was "beyond doubt" that the attack had been terrorism. 
"This was among the worst terrorist incidents we have ever experienced in the United Kingdom," she said in a televised address. "And, although it is not the first time Manchester has suffered in this way, it is the worst attack the city has experienced and the worst ever to hit the north of England."
8:10 a.m.
The first victim was identified as Georgina Callander, 18.
8:23 a.m.
In a statement, Queen Elizabeth II called the attack "an act of barbarity."
9:15 a.m.
A second victim, 8-year-old Saffie-Rose Roussos, was named.
9:25 a.m.
Among the injuries, 12 children are under 16 years old, the Guardian reported.
11:25 a.m.
British authorities identified the suicide bomber as Salman Abedi, the Associated Press reported.