The best sunscreens to buy this summer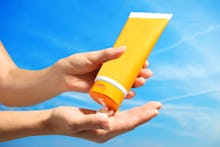 Not all sunscreens are created equal. When it comes to getting the best protection, it's important to consider criteria like SPF, formula and product ingredients.
Using a quality sunscreen to protect your skin from sunburn is imperative for your health: Getting a sunburn just once every two years can triple a person's risk for melanoma skin cancer, according to Cancer Research U.K. And it's important to start a sunscreen habit early; studies have linked sunburns in childhood to an increased risk for cancer later in life. 
On Tuesday, the Environmental Working Group, a nonprofit organization focused on human and environmental health, published a ranking of the worst-scoring sunscreens for babies and kids, many of which can be spotted at your local pharmacy. Several of these worst offenders are sold in aerosol spray cans, which should be avoided by kids and adults, since the "sprays don't provide a thick and even coating on a skin and pose an inhalation hazard," according to Sonya Lunder, a senior analyst at the EWG.
Of course, even the best sunscreen is only as effective as its user. Below, find some do's and dont's to make sure you're getting the most out of your sun protection. 
Sunscreen do's:
Look for ingredients like zinc oxide and titanium dioxide, which are often found in high-rated sunscreens, because they rarely contain hormone-disrupting ingredients. "Evidence shows they stay on your skin and don't go through and reach your blood stream," Lunder said. 
Consumers should also seek out sunscreen labels with the term "broad-spectrum," which means the lotion will protect against UVA and UVB rays, the Food and Drug Administration reported. Choose a product with a minimum of SPF 15, as anything lower isn't really powerful enough to serve a real benefit. 
Sunscreen don'ts: 
As previously noted, sunscreen lotions are king. Sunscreen sprays and sticks tend to be less efficient, so don't be taken by the fancy spray bottles on the convenience store shelf. Don't rely on sunscreen alone, as it will not completely protect a person from UV radiation. Other precautions — like limiting sun exposure and wearing hats, sunglasses and clothing while outdoors — can help, according to the FDA. Avoid sunscreens with an SPF higher than 50. According to the EWG, these products tend to lead to misuse, as users often overestimate their strength. 
EWG's best-scoring sunscreen lotions
The EWG has given its annual stamp of approval to more than 160 sunscreens on the market. To help make shopping easier, we pulled nine of their top sunscreens, which are rated for healthfulness of ingredients, UVA protection and balance of UVA protection in relation to the SPF. Our picks include a range of SPFs, brands and price points to serve a variety of consumers. You'll notice that some of the products listed below are specifically marketed to kids and babies. These aren't formulated much differently than their grown-up counterparts and are perfectly safe for adult use. "They don't offer any other combinations of active ingredients," Lunder said, noting that they may differ in scent — often touting fragrance-free options — and thickness. 
You can click through each individual product listed below to learn about its ingredients, packaging and more.
• Dr. Mercola Sunscreen, SPF 30
• Neutrogena Sheer Zinc Dry-Touch Sunscreen, SPF 30
• Zebs Organics Sunscreen, SPF 20
• Aveeno Baby Continuous Protection Sensitive Skin Lotion Sunscreen, SPF 50
• The Honest Company Mineral Sunscreen, SPF 50+
• Drunk Elephant Umbra, Sheer Defense, SPF 30
• Adorable Baby Sunscreen Lotion, SPF 30+
• All Good Kid's Sunscreen, SPF 30
• Kiss My Face Organics Face & Body Sunscreen, SPF 30