Activists on Betty Shelby verdict: "A white woman's fear of a black man" is no excuse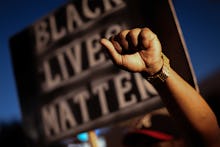 White women in Tulsa, Oklahoma, and across the country, should be outraged by the not guilty verdict reached in the manslaughter trial of Tulsa police Officer Betty Shelby, organizers of the Women's March on Washington and an Oklahoma City Black Lives Matter group said on Tuesday.
"Terence Crutcher was unarmed, his hands in the air and his back turned to officers," Bob Bland, co-president of the Women's March, said in a statement. "Her acquittal and the decision to put her immediately back on the job is indicative of how a white woman's fear of a black man is considered an acceptable excuse."
Following the verdict, activist groups are calling on the U.S. Department of Justice to file criminal civil rights charges against Shelby. Given that she was cleared to return to work Monday, Women's March and BLM OKC also demanded that Tulsa police officials fire Shelby.
Shelby fatally shot Crutcher while on duty on Sept. 16, and was acquitted of first-degree manslaughter on Wednesday. During trial, the officer told jurors that she feared that Crutcher, a father of four, was reaching into his stalled vehicle for a weapon and would kill her.
Shelby's fear for her life, which is a defense used by many officers accused of using lethal force, became a key factor in the case. The shooting was caught on police dash camera and helicopter footage and drew national attention, in part, for how Crutcher was described by other officers. An officer in a helicopter, hovering over Crutcher and Shelby, is overheard in the footage saying the unarmed man "looks like a bad dude" who "could be on something."
A detective's video interview footage of Shelby played during her trial depicted the officer as emotionally distraught and sobbing as she described her fear. In a public letter explaining the jury's decision, a foreman wrote that jurors believed Shelby was fearful and that her decision to shoot Crutcher was not inconsistent with her use-of-force training.
However, activists are convinced that Shelby's fear of Crutcher is indeed related to his race. Bland called on the white women who marched by the millions in the U.S. mobilizations on Jan. 21 to show their support for black communities dealing with endemic police violence.
"This is a time for white women to vocally reject the assumption that black men are a threat to our safety," the statement read. "Terence Crutcher should be alive right now, and Betty Shelby should be held accountable for the fact that he is not."