5 high-paying jobs college graduates can get right out of school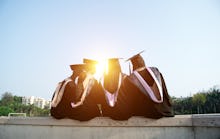 There's a big gap between how much college grads think they'll make right out of school and how much they actually do. While the average salary for 2016 graduates was $52,569, more than 65% of new grads said they expect to earn more than $60,000 for an entry-level job, per a new survey of about 1,700 college students conducted by talent acquisition software firm Yello.
Of course, some majors rake in higher salaries than others, with 2017 computer science majors projected to earn $65,540 this spring, according to an employer survey from the National Association of Colleges and Employers, versus the $48,733 projected salary for humanities majors.
With your newly minted degree in hand, you may be wondering which fields pay the most. Using Glassdoor's list of the most common jobs of colleges grads held during their first five years out of school — which the site scanned real resumes to determine — Mic selected the five highest paying positions. Salaries are based on the national median amounts for entry-level workers, using anonymous Glassdoor employer reports over the last two years.
While the very top-paying jobs tend to require math or coding skills, a few positions on Glassdoor's longer list pay more than average without requiring such technical knowledge — including operations managers, earning a median base pay of $59,000 and account managers, earning about $50,000.
How does your chosen profession shake out? Peruse these top paying post grad jobs to see where you might land.
5. Data analyst
Median base pay: $60,000
Good at math? An affinity for math, economics and information technology is a must to become a data analyst, which involves gathering, organizing and analyzing data for just about any industry.
Typical duties include developing reports, identifying patterns and using data to add value to their company, client or both. Recent job openings on Glassdoor range from a game data analyst at Cryptic Studios in Los Gatos, California to an assistant director of data analytics at the University of Chicago, working in the marketing and admissions departments.
4. Web developer
Median base pay: $60,960
You don't need a technical degree to be a web developer. Philosophy joins information technology, computer science, and engineering as a top major for people working in this field, and there are easy, cheap ways to learn to code.
Even better, the rise of ecommerce and mobile devices should fuel job growth in this field by 27% from 2014 to 2024, the Bureau of Labor Statistics reports.
Creativity, plus skills you pick up through school or self-education, will make you stand out. You need to be able to write code, create and test applications, develop and design websites, track traffic and often collaborate with others.
3. Financial analyst
Median base pay: $64,453
Analysts typically translate reports, forecasts and provide pathways both cost cutting and growth for the company. Anyone with a degree in finance, economics or accounting is well-positioned for a job as a financial analyst, which requires at least a bachelor's degree (although a master's degree is sometimes preferred).
The jobs are in high demand, in part because a number of aging analysts are on the verge of retirement, career placement company Robert Half notes.
2. Engineer
Median base pay: $70,500
College grads can find themselves in a wide variety of engineering fields including electrical, mechanical, civil, chemical, petroleum and environmental. Mechanical engineering is one of the broadest engineering specialties, the Bureau of Labor Statistics notes, with opportunities to design, build and test everything from sensors to engines.
Demand for engineers will continue to grow by 4%, with the fastest growth for biomedical engineers (23.1%), environmental engineers (12.4%), and civil engineers (8.4%). Approximately 65,000 new jobs are anticipated to be added by 2024.
1. Software engineer
Median base pay: $90,000
The top paying job on Glassdoor's survey typically requires grads with a degree in computer science, engineering, electrical engineering or information technology. Also called software developers or programmers, software engineers need strong programming and coding skills.
It's also one of the fastest growth areas, with demand for workers anticipated to grow 17% through 2024, the Bureau of Labor Statistics found. Current job openings include a mobile game developer for Glu Mobile in San Francisco and a "code team" member at Amazon in Seattle.
Sign up for The Payoff — your weekly crash course on how to live your best financial life. Additionally, for all your burning money questions, check out Mic's credit, savings, career, investing and health care hubs for more information — that pays off.