Trump's budget cuts funding to disease research, just in time for mosquito season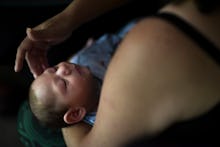 President Donald Trump released his first full budget proposal on Tuesday. In it, Trump and his administration proposed deep cuts to social services including cutting $616 billion from Medicaid and the Children's Health Insurance Program over 10 years. It additionally slices nearly $200 billion from food stamps and also proposes to end $72 billion in funding for programs for people with disabilities.
Beyond social welfare, the budget also takes direct aim at more domestic programs including those focused on science and research, such as the proposed $1.2 billion cut to the the Centers for Disease Control's budget. 
Gizmodo reported, that reduction would cut funding for the National Center on Birth Defects and Developmental Disabilities, which is essential for research on diseases like Zika. And as the weather heats up, more and more of these pesky blood suckers will hatch, fly and potentially carry life-changing diseases with them.  
But like everything in this budget, the dollars and cents get incredibly complicated and don't really seem to add up. As Gizmodo noted, the budget appears to understand and even emphasize the importance "vector-borne" diseases — those that are transmitted from mosquitoes, ticks and fleas — however, the very cuts it's proposing will also end individual state and local communities' ability to be prepared for any potential outbreaks. And Zika is nothing the American public wants to play around with. According to an April CDC report, one in 10 women diagnosed with Zika while pregnant gave birth to a child with serious birth defects.
Dr. Lyle Petersen, a Centers for Disease Control and Prevention expert on insect-borne diseases, spoke with NBC and said localized outbreaks are a near-certainty in the coming months. And Zika may not even be our only problem in the summer of 2017: On average, scientists discover about two new mosquito-transmitted viruses that can make people sick each year, according to the CDC.
"Alarmingly, the emergence of mosquito-borne diseases appears to be accelerating," Peterson told NBC. "Over the past few decades, we have seen a resurgence of dengue and the introduction and spread of West Nile virus, chikungunya virus, and now Zika virus into the Western Hemisphere."
To make matters much worse, in April federal officials at the CDC told officials from six states that the Zika research funding they thought would last for five years will instead be drained by summer, according to PBS.
"This is so counterproductive. Now is not time to make draconian cuts to the agencies tasked with fighting Zika or other health crises," Democratic Colorado Rep. Diana DeGette told NBC about Trump's budget proposal. "We don't want to find ourselves in the middle of this summer scrambling to cobble together another supplemental [funding request]."
Of course, Trump's proposed budget is just that, a proposal, and will likely go through a number of changes before it is passed. But still, even the very idea of cuts to the CDC's important research is alarming many in the medical community. As John Auerbach, president and CEO of the Trust for America's Health, delicately told NPR, the proposed cut "would be perilous for the health of the American people. From Ebola to Zika to opioid misuse to diabetes to heart disease, the CDC is on the front lines keeping Americans healthy."