Manchester Bombing Victims: What we know about those killed in the Ariana Grande concert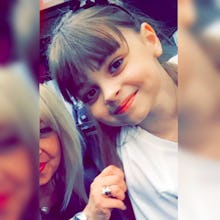 The names, identities and other details are pouring in about the 22 people killed in England's Monday night Manchester Arena terror attack following an Ariana Grande concert.
Some once thought missing have been confirmed dead.
Suspected suicide bomber Salman Abedi, 22, reportedly detonated a homemade device stuffed with nuts and bolts in the arena's foyer as thousands of people were leaving the venue, according to the Telegraph.
Greater Manchester Police Chief Constable Ian Hopkins told CNN on Wednesday that a police officer was one of the victims, declining to give a name.
Parents, women and several children were also among those killed.
Kelly Brewster, 32
Kelly Brewster reportedly died while trying to shield her 11-year-old niece, Holly Booth, from the blast. Booth survived the incident with two broken legs.
Brewster's partner, Ian Winslow, confirmed her death on Facebook after she was initially reported as missing Monday night.
According to the Telegraph, Brewster and Winslow had just put a down payment on a new home and were planning to start a family.
Brewster's friend, Payton Williams, posted an emotional status update on Facebook after initially trying to search for her only to later find out she was dead.
Megan Hurley, 15
Megan was a student at the Halewood Church of England Primary School in Liverpool, whose chair of governors attended a memorial service in her honor at St Nicholas' Church in the English town of Halewood, according to multiple reports.
A crowdfunding effort to raise money for Hurley's family so far has raised more than 5,500 euros.
Martyn Hett, 29
Stockport, England, native Martyn Hett's apparent partner confirmed Hett was among those killed in a Wednesday morning Twitter post.
Hett worked as a public relations manager, but he was also a popular internet personality in the U.K. who appeared on TV documentaries and reality TV shows, including the U.K.'s Come Dine With Me and Tattoo Fixers, according to the Telegraph.
Hett also went viral last year after Hett posted pics promoting his mother's arts and crafts, BuzzFeed reported.
Some of Hett's YouTube videos were viewed more than 400,000 times. 
Alison Howe and Lisa Lees
The two friends, both mothers from Royton, Oldham in England, had traveled to the arena to pick up their daughters and were waiting in the arena's foyer area when the blast went off, according to the BBC.
Their daughters are believed to be safe, according to the Manchester Evening News.
Howe's stepson, Jordan Howe, confirmed her death on Facebook.
Friends, classmates and teachers of the youngest victim, 8-year-old Saffie Rose Roussos of Leyland, England, reportedly wept and sang "Don't Stop Believin'" this morning during a special assembly in Roussos' honor at her former primary school, Tarleton Community, in England's Lancashire County, according to the Mirror.
Roussos was leaving the Ariana Grande concert at Manchester Arena Monday night with her mom, Lisa Roussos, and sister, Ashlee Bromwich, when suspected suicide bomber Salman Abidi allegedly detonated his weapon. 
Roussos' mom and sister both were treated for shrapnel wounds after the blast went off.
"It is hard for adults, let alone children, to grasp the unfairness and utter randomness of this terrible act," headteacher Chris Upton told reporters outside Roussos former school Wednesday morning.
"Saffie was quiet and unassuming with a creative flair," he added. "Saffie comes from a close, loving family and we can only imagine what they are going through."
Also killed in the attack were Ariana Grande "superfan" Georgina Callander, 19; Bury College student John Atkinson, 26; and parents Angelika Klis, 40, and her taxi driver husband Marcin, 42 of York, England.
The Polish couple were apparently waiting for their daughters Patricia and Alex after the concert when the bomb went off.
According to the BBC, the two girls are safe.
The Telegraph reported the following people as still missing:
•Chloe Rutherford, 17
•Liam Curry, 19
•Courtney Boyle, 19
•Philip Tron, 32
•Eilidh MacLeod, 14
•Wendy Fawell, 50
•Nell Jones, 14