UK tattoo parlors are being overbooked for bee tattoos to honor Manchester attack victims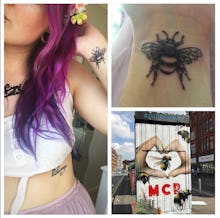 British locals have been flooding into tattoo parlors to get bee tattoos in the after math of Monday's deadly terrorist attack at a Manchester, England Ariana Grande concert.
The worker bee has long been Manchester's sigil of sorts, a symbol of the city's working class history during the Industrial Revolution.
During the 1800s, bee-like locals, known as Mancunians, spent their lives weaving cotton in Manchester textile mills, which were described as "hives of activity."
The worker bee is also featured prominently on the crest of the city's coat of arms as a symbol of Mancunians' industriousness, according to BBC.
The bee symbol is featured prominently in Manchester.
Since Monday's bombing, tattoo parlors have been offering discounts bee tattoos to raise money for charities benefitting terror attack victims.
Tattoo artist Gavin Rourke, 41, owner of 72 Tattoo in the Manchester-area town of Urmston, says demand for bee tattoos has been un-bee-lievable.
"It was instant bookings from the minute I put the post up [on Instagram]," Rourke told Mic Thursday via Instagram direct message.
York native Freya Elliott, 24, a beauty salon owner who's from Manchester and goes by "welcome_foolishmortals" on IG, got a bee tattoo Wednesday to show her hometown pride.
"From what I've seen, a lot of Manchester [parlors] have become fully booked," Elliott said via an Instagram. "York Tattoo appears to be the only one in my current city who has taken part and [the artist] told me she was very nearly fully booked and has been inundated with messages from people, not just from York, but overflow from other cities who have been unable to get a slot closer to home."
Many social media users from the U.K. have posted pics of new Manchester bee tats.
The trend was apparently started by Manchester tattoo artist Sam Barber, who created the promotion to raise money for the victims of the attack, according to Unilad. Barber and other artists will be doing bee tattoos for 50 British pounds.
"I was born in Manchester and have lived here my whole life, same as generations of my family," Barber told Unilad. "It's a city close to my heart. We are strong and caring people here in Manchester and will prevail, if any city can get through a time like this, it is ours. We will not be divided."
Widnes, England, native Jools Yasities, 48, said via Instagram that she and her daughter, Natascha, 24, also got bee tattoos Wednesday at a parlor in Earlestown, England, called Tattoo Booth.
Yasities said the parlor's owners are following Barber's lead in donating proceeds to charities benefiting the Manchester attack victims.
"We wanted to do something to show our solidarity and to donate to the cause," Yasities said. "As mother and daughter we felt it would be a bonding experience while also creating a permanent reminder of our respect."
"People in the northwest here are saddened and angry of course, but determined to pay every act of kindness and respect possible," Yasities added. "There's very much an attitude of we won't be beaten or cowed down."