'SpeedRunners' Xbox One Release Date: When will it hit Games With Gold?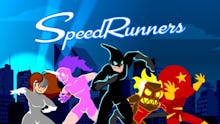 SpeedRunners is an upcoming multiplayer racing game that's about to touch down on Xbox One this June. Announced via publisher tinyBuild Games and developer DoubleDutch Games, the Xbox One release will be free for anyone with Xbox Live Gold members as part of the Games With Gold initiative the entire month of June. 
SpeedRunners Xbox One Release: Everything to know about the new version
SpeedRunners isn't a new game per se, but it's new to Xbox One. It first released back in April 2016 on PC, Mac and Linux and has garnered a "Very Positive" Steam review since it debuted. 
It's a four-player competitive title that pits players against each other as they race to the end of each area, rife with rockets, power-ups, spikes and other weapons to keep things interesting. Simply put, it's a bunch of superheroes running around a city trying to outdo each other. That's SpeedRunners in a nutshell, but you can check out the trailer below if that doesn't quite paint you a good picture of what to expect. 
If you're an Xbox Live Gold member, you can pick it up for free after June 1, but if not it'll be on sale, too, for $14.99. 
More gaming news and updates
Check out the latest from Mic, including our list of video games that made fun of their players, a personal essay about dealing with anxiety through Breath of the Wild, a look at the racist and sexist experiences in eSports and a plea for better character customization options for black characters.