'Playerunknown's Battlegrounds' Update: What to expect from the latest patch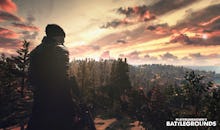 Playerunknown's Battlegrounds has only been in Early Access for about two months, but during that time it's garnered 2 million sales in its first four weeks and doubled its initial player base. It's clear people really want to get in on the Battlegrounds, especially with its latest update, coming out on May 25, which happens to be tomorrow. 
Playerunknown's Battlegrounds update patch notes: What to expect 
The update is scheduled to hit Thursday, May 25 at 1 a.m. Pacific, with a huge chunk of content coming with it. Check out the complete list of alterations in the patch notes here, but to make things easier to keep track of, we've got some of the more significant tweaks here. 
For instance, there's a brand new VSS sniper rifle with a 4x scope that uses 9mm ammo, a new motorcycle sans a sidecar, which you can actually control while in the air. This means, according to Playerunknown himself, you'll be able to take on some sweet stunts. This is no doubt the main attraction that comes with the update, so if it's been your dream to do flips and cool motorcycle tricks in-game thus far, that dream is about to come true. 
Regarding the game's playability as far as the interface and rendering go, the patch will introduce bug fixes and changes made to improve lag issues players have been reporting in the past. Here's a direct quote from the patch notes page on Steam:
We are currently in the middle of profiling the servers to attempt to track down the cause of the lag, but as I have said before, this will take us time to complete, so I ask for your patience while we work to improve server performance for all players. 
If you're a Battlegrounds fan, look forward to improvements coming your way beginning Thursday, May 25. 
More gaming news and updates
Check out the latest from Mic, including our list of video games that made fun of their players, a personal essay about dealing with anxiety through Breath of the Wild, a look at the racist and sexist experiences in eSports and a plea for better character customization options for black characters.