More than half of Americans believe Trump is abusing his power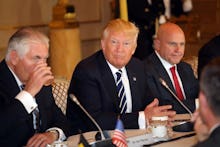 More than half of American voters believe President Donald Trump is abusing his powers, according to a new poll conducted by Quinnipiac University.
The poll showed that 54% of respondents believe the president is abusing his role as commender in chief. The trouble, according to Quinnipiac, all began after Trump fired former FBI Director James Comey. 
According to the results, 55% of voters believe Trump fired Comey to disrupt the investigation into possible ties between the Russian government and his administration. Additionally, 54% of the 1,404 people polled said they do not believe Trump's claim that Comey told him on "three separate occasions" that he was not under investigation. However, 55% of respondents do believe that Trump asked Comey to drop the investigation into former national security adviser Michael Flynn.
"President Donald Trump remains mired in dreadful mid-30s approval numbers and the red flags that are popping up tell an even darker story," Tim Malloy, assistant director of the Quinnipiac University Poll, said in a statement.
Malloy noted that retirement-age voters are leaving Trump's side in big numbers. In fact, 53% of voters 65 and over said they disapprove of the president's job so far, versus 42% approving. Additionally, as the Washington Post reported, the poll shows that while the majority of Republicans are sticking by Trump, more and more Independents appear to be aligning with Democrats. 
In total, 62% of voting Americans believe Trump's alleged ties to Russia should be investigated by the U.S. House of Representatives, with 68% of respondents saying the alleged Russian interference in the 2016 election is a "very" or "somewhat important" issue.
And while the poll also found that 59% of voters believe Trump to be dishonest, Mallory asserted that "by far the most alarming determination is that [voters believe] President Trump is abusing his office."