American Health Care Act: 5 takeaways from budget analysis of GOP's health care plan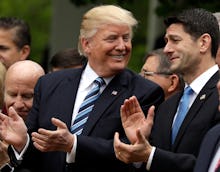 On Wednesday, the nonpartisan Congressional Budget Office (CBO) released its latest score of the American Health Care Act, otherwise known as H.R. 1628. Their estimate concluded the revised version of the Republicans' health care bill will see 23 million more uninsured people by the year 2026, and millions more will pay higher premiums for stingier benefits. 
For context, the CBO score calculates the cost to the government and determines how many people will lose coverage if the bill is passed. However, as Mic reported, the scoring system is not without its flaws. For example, the office predicted the Affordable Care Act would cover more people than it did. But while the system isn't perfect, it does offer a nonpartisan appraisal and educated guess of what the bill will cost and what effect it will likely have. Here are five key takeaways from this round of CBO scoring:
An estimated 23 million people will lose their coverage within 10 years
According to the analysis, millions of Americans would lose their insurance in the coming years if the bill passes. As the CBO report notes, 14 million more people would be uninsured in 2018 than under current law. By 2026, an estimated 51 million people under age 65 would be uninsured, compared with 28 million who would lack insurance by that same year under the current system.
The elderly and poor will be hurt the most
Premiums could rise by an average of about 20% in 2018 and 5% in 2019, the CBO reported. However, it did note that after 2019 premiums would level off. As CNN reported, by 2026 the average premiums would be roughly 10% lower than under the current healthcare system, however this is due to the elderly and those with preexisting conditions getting forced out of the market due to exceptionally high premiums, thus the average cost of premiums goes down.
"Unless a state sets a different limit, H.R. 1628 would allow insurers to charge older people five times more than younger ones beginning in 2018," the report states.
For example, a 64-year-old making $26,500 would pay $1,700 for coverage in 2026 under the current healthcare law. His coverage cost is reduced thanks in part to subsidies, but under the proposed plan, that same 64-year-old would pay $16,100 in premiums by 2026 if he lives in a state that doesn't accept regulatory waivers.
Plans will cost more but not provide more coverage
The insurance available under the proposed bill, on average, would pay for a smaller proportion of health care costs, according to the CBO analysis.
"Both the scope of benefits would be less and then the population would change, and that's why premiums would go down," Edwin Park, vice president for health policy at the Center on Budget and Policy Priorities, told Mother Jones.
Park explained that premiums will go down because they are weighted by what insurance companies believe people will enroll in. This means premiums could no longer include coverage of items under a person's current insurance such as mental health care, prescriptions and more. As the report states, "out-of-pocket spending on maternity care and mental health and substance abuse services could increase by thousands of dollars in a given year."
What it means for people with preexisting conditions
The CBO report is extremely clear on what will happen to people with preexisting conditions:
"... People who are less healthy (including those with preexisting or newly acquired medical conditions) would ultimately be unable to purchase comprehensive nongroup health insurance at premiums comparable to those under current law, if they could purchase it at all — despite the additional funding that would be available under H.R. 1628 to help reduce premiums."
In short, if you have a preexisting condition such as AIDS, cancer, an eating disorder, diabetes, dementia, lupus or a host of other health issues, you will almost certainly pay more in the individual market, if you can even qualify for insurance at all.
The new CBO score is nearly the same as the previous score
The new analysis is nearly identical to the old. There is however, one small improvement: In the old version of the bill, Quartz reported, 24 million people would lose insurance by 2026. Now, that number is just 23 million. If the new bill passes, it will reduce the federal deficits by $119 billion over 10 years, according to the CBO. The initial bill would have lowered the deficits by $150 billion, but lawmakers added back in more money to a stability fund for states to deal with costly enrollees, CNN reported, meaning less federal savings but more opportunity for those seeking coverage.